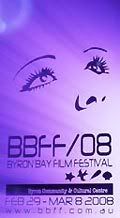 The Byron Bay Film Festival offers a unique program of films to inspire, inform and enlighten. Awards include Best Young Australian Filmmaker (under 25), Film, Cinematography, Documentary, Drama, Short, Animation, Experimental, Environmental and Surf Films.
The Byron Bay Film Festival is an initiative of the Byron Community and Cultural Centre and local filmmakers. The Byron Bay and Northern NSW region is home to many filmmakers. BBFF is located in one of Australia's most desirable locations – a town known world-wide for creativity, style and green-living.
Do yourself a favour & check it out! The Byron Bay Film Festival runs until the 8th March 2008.