Caroline has travelled the world & utilises these experiences as her inspiration. Caroline confesses to having a fascination with other peoples rubbish & rummaging through second hand stores and the festering recesses of dump yards. She enjoys using recycled materials wherever possible for environmental reasons and also to ensure that each piece is truly unique.
If you sign an autograph what do you write? And where do you call home?

I've never been asked! I have never liked my signature so I sign my paintings with a c.m in a little box. For the last couple of years Cairns has been home. I live in an old Queenslander…there are bananas, pawpaw's and pineapples growing in the garden…..micro bats living under the roof ….cane toads hopping around….does that make me sound like some kind of hippy witch?
In your own words, what do you do?
I live two lives. Friday to Monday I paint and draw and generally mess about in my studio. I paint on a lot of recycled materials; I love old pieces of wood. I enjoy the imperfections and wherever possible I try and let the materials dictate the outcome. The work I have exhibited over the last year has been mostly character based work….anime, pop, low brow inspired on pieces of junk. I find a lot of inspiration from childhood memories, dreams, and everyday experiences.
My favourite works are my travel illustrations…quick, honest and raw.From Tuesday to Thursday's I work for Newscorp as a graphic designer and illustrator in custom publishing. Two extremes but I think they keep me balanced.
Childhood Memories:
TV Show –
Dr Who, Monkey Magic, The Goodies, Skippy, Lassie, Flipper…..and Mr. Squiggle – what a legend!
Hobby –
Then or now? I'll do both…..short and sweet. Then: drawing, reading, collecting ancient Egyptian paraphernalia, looking after animals. Now: drawing, reading, collecting old stuff, looking after hobo my pet dog
Food –
Then: Peanut butter sandwiches (Kraft only, home brand sucked) and Milo. Now: Smoked salmon and champagne
Fear –
Then: My brother…I was pretty scared of everything actually, even answering the phone??? I was a very shy and introverted kid. Now: Living a mundane life and mental illness….I hear there are some great drugs out there these days!
People –
Then: family & friends Now: My other half, family & friends
Defining moment –
Then: Having the neatest handwriting in year 4 so I got to write the class letter to Ronald Dahl and he wrote one back! Now: Travelling solo…my handwriting is crap these days.
Schooling memories, chore or cherished?
Chore. I spent the first 6 months of school travelling around Australia and being taught by correspondence school and by my mum, school just didn't cut the mustard after that rich experience.
From the hours of 9am to 5pm, what do you get up too?
I wake up, go for a bike ride, and start work at 9. Drink copious amounts of tea, paint, draw, illustrate, design, sketch, doodle, stare into space waiting for inspiration, bite my nails, check to see if anything exciting has miraculously appeared in the fridge…..then back to work and I repeat the pattern again.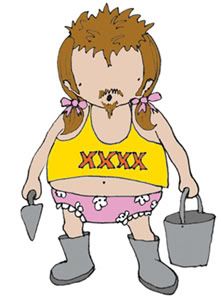 Where can people see your work?
www.carolinemudge.com
www.myspace.com/carolinemudge
Curvy 4 (the book): www.yenmag.net
Curvy 4 the touring exhibition (Perth, Adelaide, Auckland, Shanghai and LA dates coming soon)
Cairns Regional Gallery: www.cairnsregionalgallery.com.au
Centre of contemporary art – Cairns: www.coca.org.au
Just art.com: www.justart.com.au
Pt Douglas markets (if I roll out of bed in time)
For love or money?
Both, I would be lying if I said it was all for love….if you really love doing something people can usually see the beauty, honesty and integrity in it….then, they quite often buy it!
What future endeavors are in the pipeline?
I've got two group shows on at the moment here in Cairns and later on this year I have another show called "Ladyluck" which I am co-curating with 2 other mates…ummm….ladies.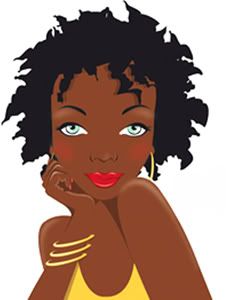 Where do you see yourself in 5 years?
Having regular shows, more time to draw and paint, more travel!!! I'm a bit obsessed with Mexico and Guatemala at the moment, so hopefully they will fit into the loose 5 year plan.
If you could invite 3 people to chat over coffee, who would they be & why?
George Bush – to vent all my anger and frustration
Billy Connolly – to make me laugh
The Dalai Lama – to make me feel calm
Coffee or Tea?
Tea please, white with one.