Two Flat Whites recently had the pleasure in interviewing fashion identity Cathryn Wills who is the Creative Director at Mimco. Cathryn started her fashion career at Benetton working the retail floor, then moved to JAG Australia, before heading back to school, to study fashion design at RMIT. Upon graduating, Cathryn was employed by Country Road in the knitwear team, eventually becoming Design Manager for the category. She then worked as a freelance designer for several businesses.
It was at Mimco where Cathryn Wills found her niche, starting her career with the brand as a freelance knitwear designer in 2004, and working with the founder and former owner, Amanda Briskin. After nearly 5 years with the business, Cathryn is now the Creative Director, overseeing design, visual merchandising and marketing directives. With a love for the world of creativity in all its forms, Cathryn believes that the approach to design should be innovative and spirited – always with the aim to surprise and inspire.
Where did you grow up & where do you hang your hat?
Adelaide, Canberra, Melbourne, upstate New York, back to Melbourne…..now in the Docklands.
In your own words, what do you do?
Have ideas, write stories, draw pictures, manage a team, critique & refine designs with the team, work on all creative aspects of what the Mimco brand says to the general population from store design through to product.
Where did you learn your craft?
On the job, over the years from a multitude of people, and formally at RMIT doing a 3 year degree in fashion design.
Whose work do you relate to most? Who inspires you?
Art, fashion styling & writing speak louder to me than fashion design on its own.  Del Kathryn Barton, Samantha Everton, Carrie Chau….   The editorial genius & styling of Numero, Another Magazine & Purple Magazine.  People on streets everywhere, with special mention going to downtown Shibuya.
What inspires you to create?
The pleasure of having ideas, collaborating with creative minds in the team & seeing all of these concepts manifest in a tangible 'thing' is very rewarding – and each time, making it better.
Tell us about your speaking opportunity this May with Fashion Palette?
Fashion Palette approached me to speak about Mimco & my experiences that bought me to this point.  The premise of speaking to an audience of students & burgeoning designers was appealing to me, as it's a forum that supports new, young talent.  I think it's important we nurture ideas & creativity – there's too much homogenization out there!
What can we expect in fashion this winter?
We're all about the mix of an Uptown Viking & a Shambolic Princess this season at Mimco.  Tribal references of fringing, studding, scarification inspired laser cutting, water creature shapes such as swans & mermaids – clash with an old manner house, eccentric mood of crystals, pearls, tweed, patent & glazed leathers.
What advice can you give to an aspiring young fashion designer?
Be proactive about your path – decide where you want to be & work towards that goal.  Work hard, listen, watch, and learn.  Go above & beyond the call of duty.  And learn to type & draw, best two things I did for my career!

Childhood Memories:
TV Show – Countdown
Hobby – drawing & roller-skating
Food – Carvel Ice cream cakes for birthdays
Fear –   The Dark….still not my favourite thing
People – Mum, Dad & my 3 sisters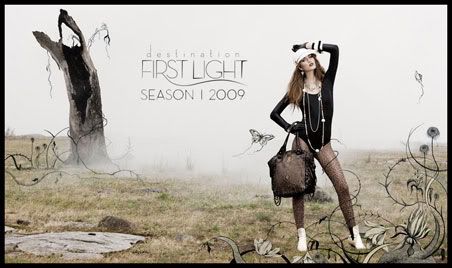 Defining moment – Moving to New York, being forced to come out of my shell…there is no escape in American schools!?
Where is the most beautiful place in Australia you have visited?
Byron Bay

From the hours of 9am to 5pm, what do you get up too?
A multitude of things, all of which occur in the Mimco office…meetings, range presentations, more meetings, store visits, research, thinking, running, ranting, raving.
For love or money?
Love….but money always helps with the shoe collection.

What future endeavors are in the pipeline?
Lots of creative projects at Mimco….and if I can get some balance into my life, then a warm blooded pet, as fish are not doing it for me any more.
Where do you see yourself in 5 years?
Poolside, doing my business remotely.
If you could invite 3 people to chat over coffee, who would they be & why?
Plato, my dad Stafford Wills, Picasso..…all no longer in the land of the living, we'd talk mathematics, philosophy & art and how they're all connected.  Well, they'd talk, I'd listen.

Coffee or Tea?
Coffee with rice milk.
As the last of fashion week models stomp down the runway on 1st May 2009, the inaugural Fashion Palette Event will open its doors to the public at the Sydney Convention and Exhibition Centre, running from the 1st to 2nd May 2009. Cathryn Wills will be one of the guest speakers, don't miss this great event, buy your tickets right here.
Tags: australian fashion, cathryn wills, fashion, fashion interview, fashion palette, Mimco, Two Flat Whites