Two Flat Whites recently attended an exhibition by talented designer/ illustrator Kareena Zerefos. We found Kareena to be not only a very talented illustrator, but an intelligent & beautiful young woman. Design for Kareena started in her Pre school days pasting macaroni onto paper plates. This led to an interest in the arts where she studied at the College of Fine Arts in Sydney & also a short stint at the University of Alberta, Canada. We had the pleasure in interviewing Kareena.
Where did you grow up & where do you hang your hat?
I grew up out at Dural, and lived on the northern beaches as a teenager. For the last year I've been living in Kirribilli in Sydney.
In your own words, what do you do?
I draw pictures. I work with themes of isolation & escapism to create a bittersweet, slightly unsettling feeling in my pictures.
Where did you learn your craft?
I studied design at the College of Fine Arts, but didn't do any illustration or painting there, so technically I'm a self-taught illustrator/painter/artist.
Whose work do you relate to most? Who inspires you?
I'm quite inspired by the simplicity of the work of Egon Schiele and Sara Moon, and also their composition and use of white space. But at the moment I love Carson Ellis' work, for the colours and fine details; as well as Audrey Kawasaki, Cecilia Carlstedt, Edwina white and numerous children's book illustrators like Eileen Soper, Pierre Probst and Mary Elliot Lacey.
What inspired you to create?
There has never really been one defining moment that has inspired me to create; I've always created in one way or another.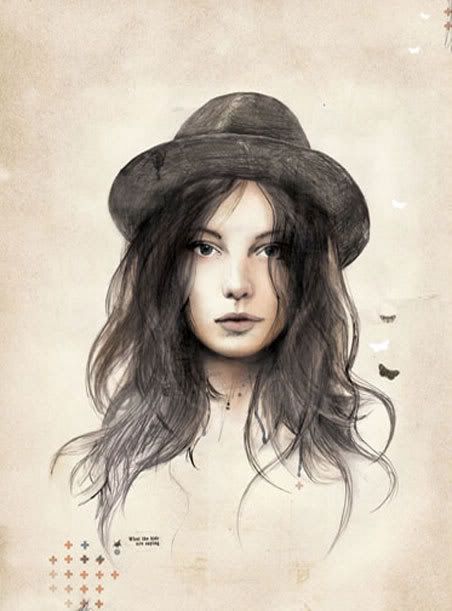 Childhood Memories:
TV Show – Astro Boy, The Smurfs and Agro's cartoon connection.
Hobby – Horse Riding, Climbing trees and swimming at the beach.
Food – Sicilian cheese cake, Ribena and Nutella.
Fear – spiders, ghosts and falling.
People – family and friends
Defining moment – sliding down a fireman's pole in a playground at a park in Canberra.
Schooling memories, chore or cherished?
A bit of both.
Where is the most beautiful place in Australia you have visited?
Blue Lake in Mt Gambier, South Australia… or the Great Barrier Reef.
From the hours of 9am to 5pm, what do you get up too?
I don't have a set routine, so I've gone with a general day leading up to my exhibition. Drink green and peppermint tea. Deal with emails. Draw some pictures. Tape pictures to the walls. Clean up. Package up prints and posters. Go to the Post Office. Go to Yoga. Check the mail. Draw some more. Research ideas. Read a chapter of Bambi. Change the music. Draw some more pictures. Talk on the phone. Take the pictures down from the walls. Paint the pictures. Eat something. Tape the pictures to the floor. Sit in front of my computer. Scan things. Print things. Draw some more pictures. Get interrupted by my sister. Refuse to go for a run. Drink herbal tea. Get back to drawing…
Where can people see your work?

www.kareenazerefos.com or at the moment at the Red Door Gallery in Edinburgh Scotland.
For love or money?
Love. You don't decide to draw for a living if it's about money. But you do need money if you want to draw for a living. Everyone needs to eat.
What future endeavors are in the pipeline?
Taking my solo show down to Melbourne and a few group shows, later in the year.
I'm hoping to spend Christmas in Scandinavia, and return all inspired to start working on a children's book and some new drawings.
Where do you see yourself in 5 years?
Drawing pictures in a bigger apartment, with an Italian greyhound jumping around, preparing for my third solo show in Paris.
If you could invite 3 people to chat over coffee, who would they be & why?
There are so many people I'd like to chat with over coffee, but I'm going to say Jon, Tina and Fiona… because they're very creative and inspirational people, and to add a bit of cheese, they're my best friends!
Coffee or Tea?
Tea. Herbal, green or white. No milk or sugar. I gave up my coffee addiction about 10 months ago.
Tags: college of fine arts, Design, designer, illustration, illustrator, interview, Kareena Zerefos, sydney, Two Flat Whites, zerefos