Lang Leav has developed a new punk label, written & designed books & is an accomplished artist. Sydney based artist Lang Leav created the enchanting world of Akina. In 2005 Akina won the 'Qantas Spirit of Youth Award'. This later inspired a documentary that aired international on the ABC in 2006. Lang has also exhibited her work through many galleries & sells her work throughout Australia & Japan.
Not too long ago, Lang Leav was awarded the prestigious $25,000 Winston Churchill fellowship to study the Harajuku Girls, an underground sub culture seeded in Tokyo where Lang heavily draws her inspiration. This new punk label that Lang has developed is really taking off. Lang has also just finished another book called 'The Little Mermaid'. Two Flat Whites sits down with inspirational & creative Lang Leav.

Where did you grow up & where do you hang your hat?
I grew up in Cabramatta, West of Sydney and left for a few years before basing my studio back here.
In your own words, what do you do?
I tell stories and I try my hardest to get people to listen to them.  There is a lot of competition in the technology age, with so many different mediums to distract you.  But there is something very beautiful and magical about using the traditional methods of writing and drawing to tell a story.
Where did you learn your craft?
Most of what I learnt has been through instructional manuals. While growing up, I would often experiment (as I still do). In particular, I enjoy taking things apart and putting them back together. My parents were always nervous about leaving me alone with electrical equipment!
Whose work do you relate to most? Who inspires you?
Tim Burton. His drawings have such character and convey his stories so well.  The Melancholy Death of Oyster Boy is my favourite book.
What inspired you to create?
It's a compulsion I have always had.  It is almost impossible to coax me out of my studio but I am grateful to anyone who puts in the effort to do so.  Occasionally I will emerge disorientated while I adjust to being back in the real world.
Tell us about your new book – The Little Mermaid?
On an ordinary page in my diary I had written, 'Today I fell in love and the rest of the world will cease to exist'. For months afterwards, the following pages were completely blank. It was like I disappeared into a parallel world for those months. Now I have returned and this book is my way of filling in the blanks, of bringing the fantasy of my other world into my reality. It's just something I had to do, to put an end to that chapter of my life and move onto new adventures.
You have developed a new punk label, you have written books & you are an accomplished artist – what do you enjoy the most?
I love the challenge of any creative project but my one greatest passion is telling stories through my books.  To be able to have the story in my head, have it flow out on to pages that I can sculpt into a vessel to place in the hands of another person, gives me so much joy.
Childhood Memories:
TV Show – The Storyteller. I bought the DVD a couple of years back and leant it to my friend on the night his place was robbed.  They didn't take all that much but they took my DVD so they must have been fans of the show as well.

Hobby – Yoga, I'm getting really good!
Food – I love cooking, especially for others.  There is something very satisfying about it. I also love housework, is that weird?
Fear – I have a fear of being shot from a cannon.  It happens a lot in my dreams and I wake up screaming.
People – I have more imaginary friends than real ones. But the real ones are very, very special and dear to me.
Defining moment – There was this one moment when I was sitting on the floor of my room. I had just been fired from my first full time job and I felt like my career would go nowhere. Then my Dad handed me a note, he had written on a piece of paper. The note read, 'When the hills and streams end and there seems no road beyond, amidst the shading willows and blooming flowers, another village appears'. Just months later, I was announced as the winner of the 'Qantas Spirit of Youth Award'.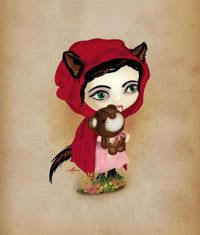 Schooling memories, chore or cherished?
Definitely cherished. It was a great place for me to try out my various business ideas. One of the more successful ones was when I managed to use some face paint to create very realistic looking injuries. They were great for getting people out of class. I built up a really great client base through word of mouth and learnt the all-important skill of how to network.
Where is the most beautiful place in Australia you have visited?
I would say the window of the first store to ever stock 'Akina' was the most beautiful sight I'd ever seen.
From the hours of 9am to 5pm, what do you get up to?
I have a really flexible schedule so I can be doing anything. Either making my deliveries, drawing, writing, playing Tetris, doing accounts, answering emails or roller-skating down at the beach.
Where can people see your work?
My website is the best place to start, as there is also a list of stores who sell my things. http://www.akina.com.au/ Also, I have created a little fraternity called The Secret Society of Button Fetishes for all the behind the scenes action. http://www.akina.com.au/subscribe.html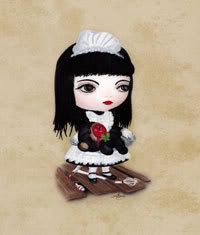 For love or money?
Love.
What future endeavors are in the pipeline?
I am doing fashion week this year – my first one!  I will also be exhibiting in Paris, the UK, Tokyo and the States. I met with the editors of Pie books in Japan (who are the largest publishers of design and art books in the country) and they are very interested in working with me on a project in the future. Several exciting collaborations with some of the most amazing artists across the world are underway. I am also working on my fourth limited edition book which I am so excited about.
Where do you see yourself in 5 years?
I see myself  being a bit of a gypsy, travelling to find inspiration in all the nooks and crannies of the world. Writing, drawing, dancing, telling stories and selling my wares.
If you could invite 3 people to chat over coffee, who would they be & why?
I met someone who would only read books by authors who have died.  It is an interesting concept so I will take a leaf out of his book and say:
Sir Winston Churchill – Since I was awarded a Churchill Fellowship, there have been many instances where I swear, he is communicating with me. For example, on my last day in Tokyo, I was walking down a street near my apartment. It is the same street I had walked down every day for the last eight weeks of my Fellowship. But on that particular day, I crossed the street a different way and behind the trees usually blocking it from view, was a restaurant building named Churchill. It felt like he was there, nodding his approval. I went home the next day and began to write what I have been told is one of the best Churchill reports ever written. You can download it here: http://www.akina.com.au/cosplaying_lolita_ds.pdf
Marie Antoinette – Because it would be the most decadent cup of coffee ever.
Piet Hein – His work has made logic comprehensible to me. This is quite important as I am utterly ridiculous and the newfound logic has served me well. Especially in a particularly tricky situation I found myself in once. But I will save that story for another time.
Coffee or Tea?
Strawberry milk.
Tags: AKINA, artist, cabramatta, lang leav, Qantas Spirit of Youth Award, sydney artist, sydney designer, the little mermaid, Two Flat Whites, Winston Churchill fellowship