Designer Sonya Mefaddi is well known in the Sydney art scene. Sonya is an Art Director for a hip marketing company & has tackled many projects under the alias of Topaz Design. She is confident, ambitious & talented. Two Flat Whites had the pleasure in recently asking Sonya a few questions to find out her passions & goals.
If you sign an autograph what do you write? And where do you call home?
I am yet to sign an autograph… I live in Sydney and love it. I was born in Jordan, but consider Australia to be home. I just spent 2 months in Jordan. Whilst it was an awesome experience it felt so good to fly back into Sydney. Nothing beats the feeling of being home.
In your own words, what do you do?
I am a graphic designer. I work with a range of mediums to visually convey a message to an audience. The computer is a great tool for graphic designers, however I enjoy creating art that has been composed by traditional methods, in particular collages.
Cutting and pasting random elements on the page, painting and drawing to create harmonistic images. I buy random books and magazines from op shops as a resource library for my collages.
I feel that the computer only limits my creativity. I use my scanner a hell of a lot. As for trial and error; well sometimes it could take me two or three attempts before achieving what I want… it's unlike the computer. I can't delete a layer or erase elements off the page. It is such a lo-fi technique but that is why I love it.
Childhood memories:
TV Shows: Before school I used to watch Agro's cartoon connection. I would be glued to the TV whilst my mother dressed. I used to watch a lot of TV as a kid, my fav's besides Agro, were Art Attack, Captain Planet, Madeline, Degrassi Junior High, The Ferals, The Smurfs, and T bag and the Pearls of Wisdom.
Hobby: On rainy days I would spend my time colouring in colouring books. I also loved roller-skating, climbing trees, catching lizards and grasshoppers.
Food: I loved fruit roll-ups and tubes chips. So glad they are back!
Fear: As a kid I was frightened of animals, in particular of dogs.
People: I have vivid memories of my primary school teachers.
Defining moment: I guess it was topping the grade in year 7 for visual arts.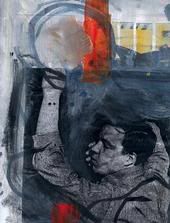 Schooling memories, chore or cherished?
Cherished. I love challenges and always looked forward to my exams. I come from a strict background, and although I was expected to study a lot, I did enjoy it.
From the hours of 9am to 5pm, what do you get up too?
I work for a marketing company in Sydney as an Art Director/studio manager.
Where can people see your work?
www.myspace.com/sonyamefaddi (personal myspace – with samples of my art)
www.myspace.com/sonyamefaddiart (purely a space where I upload my art)
My book – Unable to Sign – Please email me on myspace for a PDF.
For love or money?
For the L O V E!! When something is effortless to you, you know that it is what you are meant to be doing. It is a job, but it is a hobby and it is what keeps me happy.
What future endeavors are in the pipeline?
I am currently working with the Design is kinky team on a very exciting project. Which we hope to launch towards the end of next year. I am also working with Kyle Pound (A young creative – with loads of talent) on a new fashion magazine.
Where do you see yourself in 5 years?
Working out of my own studio, with a highly creative team on my fashion magazine. Doing the things I love, with lots of great success.
If you could invite 3 people to chat over coffee, who would they be and why?
Eduardo Recife – I adore his art and love his techniques.
Shinro Ohtake – Another of my favorite artist. Would love to flick through his entire scrapbook collection.
Wentworth Miller- Because he is just so divine!
Coffee or Tea?
Tea. I love my tea black, with fresh mint leaves from my garden. Yummo.
Tags: fashion palette, sonya mefaddi