The Dungog Film Festival is an annual 4-day festival held in the cosy northern NSW town of Dungog – in the Hunter Valley region.  It screens only Australian movies (both unreleased and classics), and puts an emphasis on bringing the film-maker and the film-goer together.  As the festival is about to launch into its 3rd year (28th May to 31st May 2009), Two Flat Whites had a chat to festival director and co-founder, Allanah Zitserman.


First of all, the whole concept of the Dungog Film Festival (DFF) is just so un-pretentious and refreshing. The relaxed and welcoming vibe you guys have created feels very Australian, was this exactly how you and Stavros Kazantzidis (co-founder of the DFF) envisioned it to be? How did this idea come about?
Yes, this was the basis of our original vision for the event. Stavros and I came at it from two key perspectives; the filmmaker and the Aussie filmgoer. We thought about what would we want from an Australian film festival and four key things sprung to mind. One was that we wanted an event that was non-competitive, stripped of any rivalry. We felt that just having the opportunity to be a part of the local film industry was a prize in itself. We also felt that in order to move into the future of cinema we needed a context of our past and that was the reason for showcasing films from the past and including established filmmakers in the program. We wanted an event outside of the hustle and bustle in a friendly relaxed environment. Finally we wanted to put the focus on the dynamic and diverse and extremely valuable Australian film industry. With these four ingredients we hoped that we would create a completely original event that helped bridge the gap between filmmakers and filmgoers and at the same time bring the film community closer together.
It sounds like the entire population of Dungog embraces the festival with open arms. In fact, with only 50 actual tourist beds in the town, the people of Dungog offer cheap accommodation for visitors, in their own homes.  Shop-keepers adorn their window-fronts with Australian film-themed displays.  Cinema has always had the potential to create a feeling of unity amongst a community.  Do you feel the giant multiplex cinemas so prevalent today have taken away some of that purity, or magic?
We are very lucky to have such a great community to work with in Dungog and their commitment and involvement in the festival has been part of what makes it so unique.  There is something magical about going to a community cinema, whereas multiplexes provide a very different experience for cinemagoers. I think that each has a place in today's society but there's no doubt that with community cinemas there is an intimate feeling like you're going to a friends place to watch a film which is refreshing.

Whilst the DFF seems to be all about relaxing and watching movies in a picturesque country town, it is also a great opportunity for film-makers to build some hype on their unreleased films. The buzz surrounding the screening of 'The Jammed' at last year's festival went a long way to securing national distribution for the film. What has this meant for the level of interest you now receive from film-makers, as well as distributors?
The festival is set up for helping build a healthier local industry. It aims to connect screen industry practitioners and give films looking for distribution a platform to be discovered.  Dungog achieves significant national coverage and can be very useful in assisting distributors with their release strategies. Last year Unfinished Sky was included in 85% of national coverage achieved for the event. This contributed to the film becoming the second highest Australian-produced box office earner of 2008. The level of interest from filmmakers that don't have distribution has increased but the distributors are still playing it safe choosing city based festivals over Dungog. I believe this will change as the festival matures.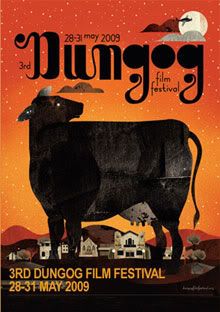 Speaking of distribution, I read that you and Stavros started your own film distribution company, the Australian Film Syndicate (AFS), as a result of the growing success of the DFF. The AFS handled the distribution for the recent Australian film 'The Combination'. The film was only screened in specific suburbs in Sydney and Melbourne – areas in which you felt people would be interested to see the film. This is quite an original strategy. Do you feel that it worked well for 'The Combination', and will this be a strategy the AFS will use into the future?
The strategy for The Combination was very effective. The film was the Number 1 earner against US product at the NSW sites it was playing in its first few weeks.  We believe that each film requires a very unique strategy that makes sense to reaching its desired audience. AFS is not interested in formula distribution it carefully constructs its release strategies specifically to the target audiences.
It's no secret that the relationship between the Australian film industry and the general Australian population isn't very healthy. Over the last 10 years, just 4% of Australia's box office revenue has come from Australian films.  Do you see a positive future for our film industry?
There's no denying it has been a pretty bad few years for the Aussie film industry. I do believe that things are changing and we are already seeing that with the strength of the work being released in 2009. I also am encouraged about the marketing focus being made by Screen Australia. I've always felt part of the issue is the fragmentation within the local community.  Part of the reason Stavros and I decided to start the festival was to help build bonds within the film community. Encouraging dialogue, making real connections and being honest with each other will help us inspire each other creatively and together we will find ways to help build a healthier industry.
Final question – what were some your personal highlights of last year's festival, and what are you most excited about for this year?
The opening night with Unfinished Sky was a real winner as was the NSW Mining's party on Saturday Night — people are still talking about it.  The whole program this year is super exciting. I can't wait for audiences to sink their teeth into it.
Dungog is located 228 km north of Sydney – 3 hours by car or train.  You can find all ticketing, accommodation and festival program information on the official Dungog Film Festival website.  We hope to see you there!
Interview by Ryan Nance.
Tags: Allanah Zitserman, australian cinema, australian film, cinema, Dungog Film Festival, Film, movies, Stavros Kazantzidis, Two Flat Whites