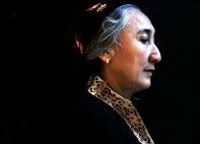 The Melbourne International Film Festival (MIFF) is an iconic Melbourne event. MIFF hosts a feast of cinematic delicacies from over 50 countries for seventeen days, heavily garnished with a range of parties and special events that cast a celebratory mood over the city. The Festival enjoys over 185,000 people every year, making it one of Melbourne's significant public events.
Drama has hit this year's festival with the Chinese Government demanding that the festival dump a documentary about an exiled minority leader that they label a terrorist and blame for instigating this month's ethnic riots in Xinjiang, which left more than 180 people dead.
The Australian film about millionaire Uighur businesswoman and Grandmother Rebiya Kadeer, who was once feted by the Chinese Government as an example of ethnic harmony in China, is scheduled to premiere on August 8.
Festival director Richard Moore said the Chinese consulate in Melbourne phoned him late on Friday after the festival's full program was published in The Age, insisting that the documentary, The 10 Conditions of Love, be withdrawn.
The consular official, Ms Chen, who is believed to be the new Melbourne cultural attaché, demanded that Mr Moore justify his decision to include the film. She also castigated him for allowing Ms Kadeer to be a guest of the festival. Ms Kadeer is due in Melbourne next month to speak at the premiere.
The Melbourne International Film Festival runs from the 24th July to 9th August 2009.
Tags: australian film, Melbourne International Film Festival 2009, MIFF, Rebiya Kadeer, The 10 Conditions of Love