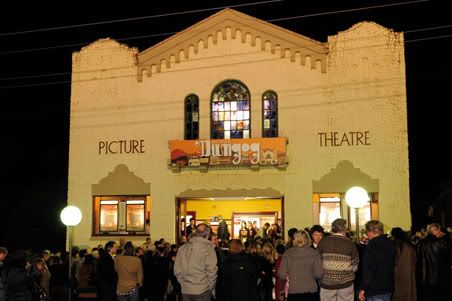 As I reflect on the four days I spent at the 2009 Dungog Film Festival, it is the above quote – from festival director Allanah Zitserman – that seems to be the easiest way to describe my experiences to you all.
Dungog is unlike any other film festival I have been to.  I saw many great Australian films, met many interesting people (film-makers, film-goers, and local residents), and listened to many enlightening film industry discussions.  What made it unique was that all of this took place in a small, northern-NSW rural town, three and a half hours out of Sydney.  This was not the Dendy in Newtown (my local inner-city cinema), this was foreign turf, and I was a wide-eyed tourist having my own little personal adventure.  I'm sure that every single one of the 6,000 people that flocked to the festival this year had their own personal adventure as well.  It's the sort of thing that you really need to experience for yourself.
As I mentioned, the festival is held over four days.  Each day has it's own timetable of events, including screenings of Australian short and feature-length films (both classic and unreleased, most of which are book-ended by Q & A's with the film-makers), live readings by actors of finished and unfinished scripts, workshops on video editing and post-production, and also 'Master-class' discussions with prominent Australian directors.  All of these events are held across three different venues within the town; the James Theatre (which just so happens to be Australia's longest running cinema); the Dungog RSL; and a boardroom attached to the local church.  All of these venues are within walking distance of each other, and there is also a shuttle-bus which couriers people to and fro.  Every day there is a hive of activity out on the streets of Dungog: events such as community markets, art gallery exhibitions, arts society painting, and street parades; all of which are within a skip and a hop to local cafes and food stalls.  To cap it all off, there are parties every night of the festival, held in a giant marquee 15 minutes walk from the town square.  If this sounds like there is a lot to see and do over the course of the festival, you are not wrong.  I was intoxicated with inspiration after just 1 hour in Dungog.  After 4 days I was bloody exhausted.
So then, a journey of discovery is probably how I can best describe the Dungog Film Festival.  Actually, an unrelated quote from musician/artist Patti Smith could be applied with greater eloquence:  "Life is an adventure of our own design intersected by fate in a series of lucky and unlucky accidents".  On arrival at Dungog, we were handed a festival programme.  At any one time, there were 3 different films and/or workshops taking place across the 3 festival venues.  Therefore, how you chose to map out the adventure was in your own hands.  Quite often, fate would intersect in a series of lucky and unlucky accidents…  On the train ride from Sydney up to Dungog, I was sat next to a rather charming man who helped waive off my 'festival anxiety' with pleasant chitchat.  Later in the evening, at the opening party gala dinner, I was shocked to see this same man slink onto the stage dressed in burlesque attire, a microphone held like a phallus in his hands.  As it turned out, this anonymous, charming man who kept me company on the long trip up was none other than highly regarded Australian actor/performer Paul Capsis – tonight enlisted to entertain the party guests.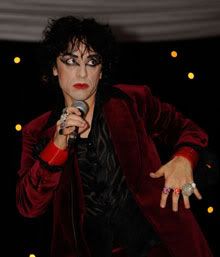 Wait a second… a gay burlesque performer from Darlinghurst chosen to open a film festival held in a rural NSW country town?  Yeah, that also struck me as a pretty risky (or risqué) piece of programming from festival organiser Allanah, and her co-founder partner Stavros Kazantzidis.  I was really pleased to see that this cutting-edge programming approach carried across into many of the films selected for screening.  It doesn't take a genius to guess that a weekend film festival held in the Hunter Valley region would attract a predominantly white, middle-class crowd.  Screenings of challenging, confrontational, and controversial films such as the Aboriginal 'stoner'-comedy 'Stone Bros', the disturbing and alarming youth homicide film 'The Dinner Party', and the bizarre sadomasochistic love story 'The Sculptor', were all ways of quietly letting the guests know that a polite wine-tasting excursion was not the order of the day on this particular weekend.  Film should act as a mirror to society, regardless of whether some of us want certain sections of our society hidden, or ignored.  As a credit to the audiences, all of these films were met with cheering receptions, and as 'Stone Bros' director Richard Franklin commented, hopefully these types of forward-thinking films will "help plant the seeds of a change in Australia's national identity; a country where there are 500 Koori cultures, along with all the other cultures".  I can confidently say that a community festival such as the Dungog Film Festival is definitely one example of an event from which many trees of change will stem.  There were many concerns being aired across the town over the course of the weekend (namely that sourcing funding for Australian films is a real issue), but there certainly appeared to be a shared belief in the pride and worth of an Australian film industry with its own unique voice.  In achieving this sense of positivity and inspiration for the future of Australian film culture, Dungog shines not only as a great and successful film festival, but also as a really important one.
Now I could tell you about my experiences at the parties and with the random locals who welcomed me with open arms (quite literally), but in order to hold on to some sense of dignity and credibility, I'll instead invite you to join me there next year, because as you will come to realise;
"What happens in Dungog stays in Dungog".
Article written by Ryan Nance
Tags: Allanah Zitserman, australian film, Dungog, Dungog film festival 2009