Emmanuel Mollois has cooked in some of the best restaurants in France and Melbourne and now owns Choux Café in Swanbourne; a small patisserie which was recently crowned 'best in the west' by the Sunday Times. He has just released his first cook book titled Et Voila! Chef Emmanuel Mollois will also appear alongside Master Chef Runner up Poh Ling Yeow in her new program Poh's Kitchen which will air on ABC1 in February 2010.
Where did you grow up & where do you hang your hat?
I grew up in Vendee, a little town called St Hilaire de Riez on the West Coast. I usually leave my hats all around my house in Subiaco, Western Australia. I've got lots of them! My favourite hat is a World War 1 helmet that my brother gave me. When I'm not exploring obscure recipe books from earlier centuries, I'm reading about history. I collect lots of antiques and this particular hat is very rare and precious to me.
Tell us about your new book Et Voila!
Well, great, easy-to-follow, beautiful pictures from Karin, truly a book everyone should have and use, ha ha! The book takes you through the basics of pastry making and then has recipes for the most popular French pastries. It covers croissants, éclairs, lemon tart, crème brulée, madeleines, and cherry clafoutis plus some of my own creations. To me, there are no 'secret' recipes. I want to make my knowledge and the knowledge of the talented chefs who came before me accessible to the home cook.
Are you looking forward to appearing alongside Master Chef Runner up Poh Ling Yeow in her new program 'Poh's Kitchen' on ABC 1 starting in February 2010? What can we expect?
You can expect a lot of me! You will see pastry, fish and sauce, all in my French style. But the main ingredient for the show is lots of laughter. Working with Poh is fun. She approaches food from a totally different background to me so when we get together we are always learning new things.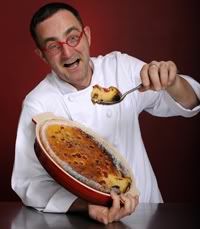 What and/or who inspired you to become a chef?
My Dad kind of pushed me into it, my dear uncle Fernand taught me his love for cooking, and I haven't stopped since 1985! I originally wanted to be a cartoonist but, after a summer working with my uncle Fernand at his catering company, I started to like the idea of working with food. He was smart, he got me into the creative side – the decorative side of food – and this is what inspired me.
Where can we see you work?
You can catch me in my kitchen at Choux Café in Swanbourne, Western Australia. Producing consistently outstanding pastries day in day out is what I strive for and I've got a great team at Choux Café who work with me to achieve that.

What is your favourite meal?
Roast chicken and peas because it used to be our family Sunday lunch meal. Lots of memories of never-ending lunches that I miss now. It is my duty to keep up the tradition with my own kids. Sunday lunches are still a big thing for me, but the roast chicken and peas are not my kids' favorites … such a shame.
Name three (3) restaurants you dine at?
"Le Foch" in Reims, France because my good friend, former chef in Paris and mentor Jacky Louaze owns this fabulous one star Michelin restaurant in the beautiful Champagne region. His wife Corinne matches all the food with the perfect wines (and Champagne). It is a very creative cuisine and Jacky has recently been crowned one of the most talented new Chefs in France.
"The Loose Box" in Mundaring, Western Australia because I worked with Alain Fabregues  (MOF) for two years as his head pastry chef, and know the quality of everything he produces. Alain is one of the few longstanding chefs in Australia and is fully involved in the promotion of the Western Australian Truffle.
"Kiri Japanese" in Shenton Park, Western Australia, is a tiny restaurant and take-away shop. Their dishes are very fresh, simple and allow Western Australia's delicious produce to take centre stage. We regularly eat there, and the kids love it!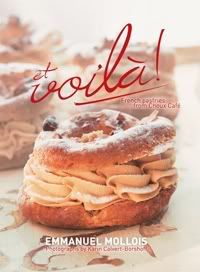 Can you share a recipe with our readers?
Of course: Les Madeleines are very easy and very French.
2 eggs
100 g plain flour, sifted
1 teaspoon baking powder
120 g caster sugar
140 g salted butter, melted
zest from ¼ lemon
In a mixing bowl, lightly beat the eggs together. In another bowl combine the flour, baking powder and sugar and make a well in the centre. Pour the eggs into the well then fold them into the flour mixture with a wooden spoon. Stir in the melted butter and zest. Refrigerate for 2 hours.
Preheat the oven to 200°C and grease the shell-shaped madeleine moulds.
Spoon the batter into the moulds until just ¾ full. Reduce the oven temperature to 180°C and cook the biscuits for 8 minutes, until golden brown. Unmould onto a wire rack and allow them to cool before serving. Makes about 12.
Childhood Memories:
TV Show – Benny Hill
Hobby – I use to love wind surfing now it is cycling
Food – almond croissant
Fear – spiders big or tiny
People – my Dad (who passed away few years ago )
Defining moment – boarding school at 10, very scared to start then I loved it.
Where is the most beautiful place in Australia you have visited?
Coral Bay, Western Australia, just magnificent and quiet.
What future endeavors are in the pipeline?
Surprises … but definitely a new book will be a part of my future.

Where do you see yourself in 5 years?
A year ago, I was only dreaming about being on a regular program on the ABC and now it is reality. I've no idea what the next five years will bring, lots of happiness with my family I hope…
If you could invite 3 people to chat over coffee, who would they be & why?
My wife, so we can chat without being interrupted by the kids;
My Mum because she lives in France by herself at 80 years old and I miss her,
My three best friends in France, we try to meet once a year over a long gourmet dinner, always a great night!
Coffee or Tea?
Coffee of course! A French bowl of coffee to start the day, then one or two short blacks to get me through the day! My wife Gordana is my best coffee maker. She learnt the art of coffee making in Melbourne when we lived there for two years.
MERCI
Tags: australian french food, Chef Emmanuel Mollois, Choux Café, Choux Café in Swanbourne, Emmanuel Mollois, Et Voila, french food, Kiri Japanese, Le Foch, Les Madeleines, Poh Ling Yeow, Poh's Kitchen, The Loose Box