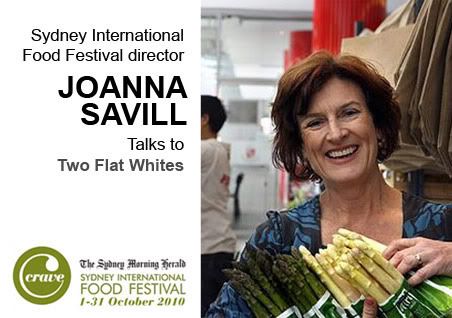 "Festival director Joanna Savill is a journalist, presenter, linguist and world traveller, with a particular fascination for food, wherever she may find it.
This is her second year in the director's chair, after an enormously successful inaugural festival in 2009 – during which more than 300,000 people attended a massive 438 individual events "
Read below as Two Flat Whites roving reporter Arno Billard asked Joanna Savill a few questions about the Crave Sydney International Food Festival.
Can you tell us a bit about Crave Sydney International Food Festival and its origin?
It was born out of the 11 year old Sydney Morning Herald Good Food Month. In 2009 Good Food Month was expanded to become an international event with world-class chefs coming to Sydney for the festival's World Chef Showcase – a premier "masterclass"-style event. We also introduced Breakfast on the Bridge and the Sydney Harbour Island Hopping events to make it a landmark month on the NSW events calendar.
As the Festival Director, what does your role involve?
My role is to create and implement the vision for the Food Festival and to be the face of the Festival! There are so many events (we have more than 600 individual listings) so there is a lot going on but it's important to have a focus, a sense of what it's all about, what fits and what doesn't and getting people inspired to be part of it. I wanted the Festival to have something for everyone – from fine-dining to casual, fun activities such as the Night Noodle markets, cooking classes, tours, community festivals, celebrations of regional NSW produce and wines and accessible informative forums and discussions too.
Last year was marked by the inaugural of the Breakfast on the Bridge which turned out to be a huge success. Have you made any changes to this event for 2010?
Breakfast on the Bridge was massive! It's a signature event. 6000 people came despite a short downpour and loved every minute. The regional produce theme was heightened this year with lovely goodies such as macadamia nut butter, beautiful sourdough bread and other treats given to every breakfaster. It was wonderful. I took 20 international chefs and they loved it.
What are the highlights of this year's festival? Is there anything new and/or not to be missed?
Highlights include all the community festivals – explore Strathfield, Ashfield, Bankstown, Haberfield, Summer Hill and more. Plus the Showcase, the Barbecue Madness, Breakfast on the Bridge, Island hopping… so much to do!
Is the festival being promoted and advertised overseas? If so, do you have any indication of how many visitors it brings to Australia?
There is some international marketing. It's on the map internationally and certainly interstate. Last year more than 10% of our 320,000 participants came from outside NSW so that's a great start.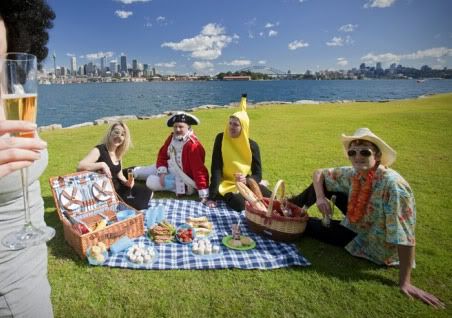 In your opinion, what makes Sydney, Australia's premier dining destination?
We have it all. Great food, great locations, amazing fine-dining restaurants as well as incredible diversity in the city and suburbs. NSW produce is fantastic. Our chefs are recognised internationally… And people in Sydney love food and love to celebrate it.
Just for fun… what's your favourite food?
I love good bread, beautiful tomatoes, superb olive oil with a simple fresh mozzarella cheese and basil – or a bowl of laksa – or Chinese dumplings – or a great kebab… Everything!
Tea or coffee?
Coffee in the morning and after a fine lunch. Tea on weekends – loose leaf only!
And to conclude, what would you like to say to encourage everyone to check some of the 2010 festival's events out?
There really is something for everyone. Have a look at the website and explore by date, location, event type. Don't let the month go by without being part of it. It's the biggest food month ever and everyone should be involved in celebrating this great city of ours.
www.cravesydneyfoodfestival.com.au
Tags: Arno Billard, Crave Sydney International Food Festival, Joanna Savill, Sydney International Food Festival