While MasterChef Australia is heating up, Julia Jenkins is hard at work trying to get the edge over her fellow contestants. Julia takes a hard earned break and chats with Two Flat Whites. She is obsessed with food, and it wasn't until she was in her late teens, Julia confesses that she was an extremely fussy eater and could never have imagined herself becoming a cook. The race to the finals is only week's away, check out more right here.
Where did you grow up & where do you hang your hat?
I grew up in Perth, Western Australia but moved to Melbourne almost two years ago.
In your own words, what did you do before MasterChef Australia?
Before Masterchef I was working as a Marketing Assistant at a cinema company. It was a great job and a fantastic company, but ultimately it wasn't where I wanted to be. Basically, it wasn't food.
How did you become involved with MasterChef Australia & was it a lengthy process?
I resigned from my job at the beginning of the year and was in the thick of deciding what I wanted to do with my life and how I wanted to get into the food industry when I heard whispers that Masterchef was coming to Australia. I applied, managed to get through the lengthy audition process, and the Top 50 week, and here I am. I don't think I ever expected to even get the first call back, let alone get through to the finals!
What has inspired you to become a chef?
I adore food. I love cooking it, reading about it, tasting it, eating it, cooking it, and talking about it. I have met so many passionate and knowledgeable people in the industry and they have really inspired me to follow this path.
What foods do you enjoy working with & what is the most difficult thing you have cooked to date?
I really do love cooking almost anything. I love working with inferior cuts of meat, which need long cooking times and can be infused with so much amazing flavour. I also love vegetables – there's so many out there to discover.
I don't find cooking many things difficult. Time consuming maybe, but difficult no. That being said, I'm terrible at rolling things or folding things; I have clumsy fingers.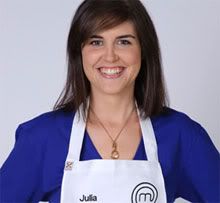 Tell us about the day you beat one of Australia's best chefs, Peter Evans in a cook off?
I was so nervous going into the challenge. I had no idea what I would be cooking or who I would be cooking off against, and I was really just hoping not to make a fool of myself. When I found out that it was Pete, and the dish I would be cooking, I was even more nervous. There were about ten million ingredients and so many elements to the dish! Once the time actually started, I became really calm. I listened to what Pete had to say and just cooked my best.
We talked afterwards and Pete was worried that his duck wasn't perfect, but I was still completely surprised by my win. Three nines out of ten from three of the most knowledgeable food personalities in the country is pretty satisfying,
Name three (3) restaurants you dine at?

Cumulus Inc. in Melbourne – chef Andrew McConnell has a menu full of the kind of food that I love to eat. They also have the best breakfast in Melbourne, and some of the best coffee. The lemon curd-filled Madeleine's are admissible to finish!
MoVida – Frank Camorra has recreated Barcelona in Melbourne. I like to sit at the bar and let the staff guide me to great food and drinks. I love it when they change the menu because I'm there so often there are only about three things on it I haven't tried.
Four in Hand, Sydney – since I've been going to and from Sydney a bit lately, I've had the opportunity to spend a bit of time at this small restaurant. The food is wonderful, and the atmosphere is just lovely. It's a great date restaurant too!
Can you share a recipe with our readers?
I don't really write my recipes down, which is one of my shortcomings. But for my dumpling recipe that I won a challenge with go to http://www.masterchef.com.au/julia-mushroom-and-vegetable-dumplings-with-broth.htm. It's a good one, I swear! I promise I'll have plenty of recipes when I publish my cookbook!
Childhood Memories:

TV Show – I had tragic taste in TV as a kid. I loved Lois and Clarke (massive crush on Dean Cain) and Hercules. So sad. I've improved, trust me.
Food – I was the pickiest eater ever! I didn't even like the usual food that kids like. It was all about pasta with just butter, or just cheese. My parents were certainly surprised when I became so interested in food and eating. Now I eat everything.
Fear – I'm not scared of heights, but I am scared of falling. And I'm desperately scared of losing the ones I love.
People – My family. We're still very close.
Defining moment – I have no idea. My sister would probably say it was the time she shoved an olive in my mouth and forced me to eat it, and I liked it.
Where is the most beautiful place in Australia you have visited?
I have to say, I love Melbourne and always have. I fell in love with the city from the first time I visited, and still find it incredibly beautiful. I also like the Margaret River region, Mornington Peninsula and Byron Bay – anywhere where there's great food, great wine and a good atmosphere.
What future endeavors are in the pipeline?
I plan to take full advantage of some of the amazing opportunities that taking part in Masterchef has afforded me. Through Pete Evans's mentoring, I've met some fantastic people and hopefully I can keep these contacts in the future. There are so many possibilities in the pipeline and so many things I'd like to try. Food writing, perhaps getting my apprenticeship, travelling and more studies. I suddenly have a whole world of choice.
Where do you see yourself in 5 years?
Cooking. I don't know where or in what context, but I will definitely be doing it. It's my dream.
If you could invite 3 people to chat over coffee, who would they be & why?

Ferran Adria (and his translator) – I'd like to pick his brain a bit about food.
Douglas Adams – I know he's dead but I am still the biggest fan. He'd be the ultimate coffee companion; warm, funny and personable. And tall!
David Bowie – I love him. Enough said.
Coffee or Tea?
Coffee. Short macchiato is my coffee of choice. But I'm trying to wean myself off it a bit (it's not working).
Tags: australian cooking, Cumulus Inc. in Melbourne, dumpling recipe, Four in Hand, hugos restaurants, Julia Jenkins interview, MasterChef Australia, MoVida, peter evans, sydney