Two Flat Whites had the pleasure in interviewing newly-graduated Enoteca Vino Bar Chef Antony Campbell. Antony was awarded 'Apprentice of the Year 2007' & wowed the judges with his attitude, commitment & knowledge.
Antony won the award against all trades, quite an achievement! Antony's passion for great food and the perfect dining experience, as well as his affable, easygoing nature make him a valuable member of the Enoteca kitchen brigade.
Where did you grow up & where do you hang your hat?
I grew up in Pyalong, Victoria and am currently living in Epping.
In your own words, what do you do?
I take ordinary products and work with them to create something memorable and exciting for our diners. I get to express myself through the food I cook. There aren't many jobs you get to express yourself so freely in, it's like being an artist.
What inspired you to become a chef?
The freedom to express myself through my work! The hours, the adrenaline & the whole environment have always been attractive to me. Being surrounded by such amazing produce is really exciting & the possibilities and combinations are endless.
What is your favourite meal?
Generally anything that I don't have to cook is a bonus but I really love sushi!! Any kind salmon, tuna, avocado, whatever…
Name three (3) restaurants you dine at?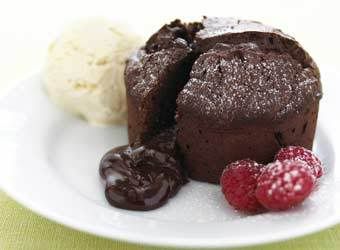 Can you share a recipe with our readers?
Chocolate Fondant (made easy)
Ingredients
100gm dark chocolate
100gm butter
2 egg yolks
2 whole eggs
50 gm caster sugar
30 gm plain flour
Butter for greasing
Method
– Preheat the oven to 200 degrees Celsius
– Grease 4 coffee cups with butter
– Melt your chocolate and butter in a bowl sitting over a pot of simmering water, remove from heat and set aside
– In a separate bowl whisk your eggs, yolks and sugar together
– Pour the chocolate mix into the egg mix and stir well
– Add the flour and stir until well combined
– Pour your fondant mix into your greased coffee cups, fill to 1cm from the top to allow for the fondant to rise
– Place the cups on a tray and put into the oven to bake for 8 minutes, no longer and no less!
– Remove from the oven and serve
– To serve, leave in the cup and dust with icing sugar. Be careful, as the cups will be very hot.
Childhood Memories:
TV Show – Simpson's and Futurama
Hobby – Music (drums, bass and vocals)
Food – My Nonna's spaghetti bolognaise
Fear – Dying young, there's way too much I want to do!
Defining moment – Work experience in Year 10, I worked in a kitchen watching the chefs doing their thing with such discipline and precision and having fun whilst doing it. I knew it was what I wanted.
Schooling memories, chore or cherished?
Chore, I couldn't wait to finish. I look back now and am glad I completed my VCE (Year 12) though.
Where is the most beautiful place in Australia you have visited?
There are two – the little town of Westbury in Tasmania and Willmot up in the hills of Tasmania near Forth. Their bakery is a great place to relax for ½ hour or so.
From the hours of 9am to 5pm, what do you get up to?
Generally busy working my butt off to get ready for lunch service at noon, and after lunch service busy working my butt off to get ready for dinner service at 6pm.
Where can people see your work?
Enoteca Vino Bar, 920 Lygon Street, North Carlton.
For love or money?
Love, you don't become a chef to earn good money, there's no such thing.
What future endeavors are in the pipeline?
A lot of travel – London, France, Italy, Spain and all around South America. Relief work in Africa with my fiancée (she's a nurse).
Where do you see yourself in 5 years?
Assuming I make it back from Africa! Back in Australia toiling behind the stove…perhaps of my own restaurant.
If you could invite 3 people to chat over coffee, who would they be & why?
Andrew McConnell – I want to pick his brain and work out what makes him tick. His food is inspiring to me.
God – I want to know the meaning of life.
My fiancée – because I work too much.
Coffee or Tea?
After 10pm tea, before that its coffee, coffee & more coffee!
Tags: Antony Campbell, apprentice of the year, australia, carlton, chef, chocolate fondant, Enoteca Vino Bar, Melbourne, nobu, Restaurants, rockpool, Three One Two, Two Flat Whites, victoria