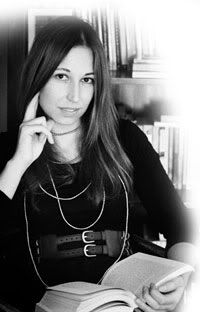 Alice recently caught up with Two Flat Whites to discuss life, passions, future endeavours and her new novel 'The Last Sky'. The Last Sky moves between a love story in wartime Shanghai and a failing marriage in Hong Kong during the handover to China. A very ambitious and resourceful young author. Don't forget the name Alice Nelson!
Where did you grow up & where do you hang your hat?
I grew up on Cottesloe Beach in WA and always find myself drawn back there, though I've lived overseas for extended stints – in New York for the longest. I'm living in Perth at the moment but am just about to head to rural France for several months for a writing sabbatical of sorts.
In your own words, what do you do?
Joan Didion once described writers as lonely, resistant rear rangers of things, people who spend their most absorbed and passionate hours arranging words on pieces of paper. That's certainly part of it but there's a tremendous joy in imagining, in telling stories, in entering into the sweet obsession of writing when it feels like there is nothing outside the world of the page. It's a solitary occupation but you also have to be terribly interested in people.
Where did you learn your craft?
From reading mostly – I think that it's impossible to be a writer if you are not voraciously, obsessively passionate about reading all kinds of literature. I used to copy out Ernest Hemingway in the vain hope that I might learn how to write the perfect sentence! I've studied creative writing at university, both in Australia and in the Masters program at the City University of New York, and while I'm not sure that you can actually teach the craft of writing, I found both experiences incredibly valuable. The discipline of having to produce work constantly, the thick skin you develop from the criticism, the contacts you make, are all so important.
Who and what inspires you?
Writers who are constantly doing new and innovative things with their craft, who aren't afraid to challenge themselves. People like Anne Michaels, Pablo Neruda, Michael Ondaatje, Joan Didion, Marguerite Duras, Gail Jones, Brian Castro, to name just a few. The African refugees I know through my work with the Coalition for Asylum Seekers, Refugees and Detainees – incredible men and woman who have often survived unimaginable violence and loss and still look to a happier future.
Childhood Memories:
TV Show – I know this will make me sound like I had a total hippy, alternative upbringing, but TV was never really part of our life as kids.
Hobby – Reading and writing – I was a very bookish child.
Food – My grandmother's Greek cooking, my father's pancakes, illicitly bought mixed lollies from the corner shop.
Fear – After being subjected to watching 'Jaws' I had a complete terror of sharks.
People – My wonderful, sprawling, eccentric extended family
Defining moment – Being sent as a young teenager to stay with one of my aunts in an artists' colony in the mountains of Portugal. It was an incredible time and gave me a sense of a wider world…both geographically and psychically.
Schooling memories, chore or cherished?
I know it sounds corny but school was a magical time for me – such a sense of possibility and discovery.
Tell us about your new novel The Last Sky?
The Last Sky is about various forms of dislocation and exile, as well as the more intimate concerns of personal geographies and the ways in which we reconcile ourselves with loss. It follows the story of an Australian couple living in Hong Kong during the handover back to China – the social uncertainty and changing political temper provides a backdrop to the unraveling of their marriage. I'm interested in the end of love, in what happens when love disappears. It also tells the story, fifty years earlier of the Shanghai Jews – the tens of thousands of Jewish refugees who found a safe haven in Shanghai during World War Two.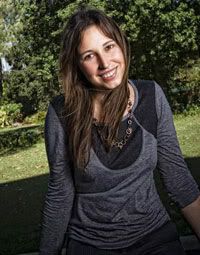 What sorts of books does Alice Nelson read?
I remember once when I was living in a very remote part of southern Mexico and English novels were extremely hard to come by. I was starved for reading material and I'd fall upon anything that turned up – moth-eaten Faulkners, detective novels, The Yates Gardening Guide, once the collected works of Shakespeare that a visiting doctor left behind. It was a wonderful time because it really taught me the importance, and the joy, of reading widely, of tackling things that you might not normally pick up. I still read like that – well perhaps not the detective novels or the gardening guides as much! At the moment I'm immersed in the American writer Lorrie Moore – her short stories are some of the finest I've ever read. I also read a lot of creative non-fiction – I think it's a genre that very exciting at the moment.

Are there any other young Australian authors we should keep an eye out for?
Yes – lots! Kevin Rabalais, Nam Le, Steve Toltz, Stephanie Bishop, AJ Betts…I think there is an incredible wealth of literary talent in Australia.
Where is the most beautiful place in Australia you have visited?
There's a tiny island just off the coast of Western Australia called Rottnest. It's all perfect little bays and limestone cottages among Moreton Bay fig trees and squalling seagulls. There's nothing there beside sea or rock and for me it's one of the most perfect places on earth. I often go there to write. Whenever I'm living away from Australia I find myself plunged into nostalgic longing for the empty beaches and forbidding cliffs and stretching coastlines.
From the hours of 9am to 5pm, what do you get up to?
My day job is officially 'Communications Advisor' – that covers everything from speechwriting, editing, media campaigns, marketing and PR, writing feature articles and research papers and whatever else comes across my desk. But I'm soon to be happily unemployed and penning great masterpieces from my cottage in the south of France – well that's the plan anyway.
For love or money?
A bit of both.
What future endeavors are in the pipeline?
I'm currently working on a collection of short stories, which should be out next year, as well as another novel.


Where do you see yourself in 5 years?
Ideally I'd like to have published this current novel I'm working on and have another well on the way but it's very difficult to say. Sometimes things need more time and gestation than you imagined. And I do believe that we have to become better people in a way to write the novels we need to write – it's a process of educating the heart.
Travel has been incredibly nourishing for my work so I foresee lots more journeys and perhaps more time living overseas. I'd like to live in New York again at some point.
If you could invite 3 people to chat over coffee, who would they be & why?
Edward Said, because I think he was one of the world's most eloquent and erudite intellectuals as well as a passionate defender of justice.
Hanif Kureishi because I love his writing and I heard him interviewed by Ramona Koval once and he was utterly hilarious and totally compelling.
Marguerite Duras – I imagine she might actually have been quite unbearable in the flesh but she's always been one of my great literary heroes.
Coffee or Tea?
Both. Good, strong coffee in the morning and, at the moment, mint and bergamot tea in the afternoon.
Tags: AJ Betts, Alice Nelson, australian author, Kevin Rabalais, nam le, Stephanie Bishop, Steve Toltz, The Last Sky