Ozi Batla – Can you get a more Australian Moniker than that? I think not!
Two Flat Whites talks to the Batla about all things Wild Colonial, which in my opinion is "album of the year"…
Tell us a little about production for the "The Wild Colonial" and were the beats made to the lyrics or vice versa or a bit of both?
I usually write to a beat – hip hop starts with the beat. Sandro was slinging me heaps of instros that I would put on the ipod and wander around listening to for weeks sometimes. That's how I work – I have a whole lot of unconstructed ideas in my head that slowly take form while doing other things. Then I usually do an all-nighter once the inspiration hits. I do heaps of editing after that.
You don't have any guests on your album, which is almost rare these days; does this allow a greater musical and lyrical freedom?
Yeah I kind of think the guest verse is becoming a bit played out. Half the time people are scanning the back cover to see who the guests are, as if the people you're able to get on your album define it in some way. I've never worked like that. The Astronomy Class albums have lots of guests – who I can honestly say down to the last one I respect musically and value as a friend. Having said that, the album wouldn't be what it is without the dope contributions of DJ Bonez and Sista Native.
You do a bit of singing on "The Wild Colonial", will you be trying out for Idol any time soon?
Nah I would call my singing "serviceable" at best. It's not my main strength but I really enjoy it. I've sung on a lot of albums in the past – pretty much most of them I think. This time round I was going to get some singers to do hooks, because I've always had melodic ideas but not always the confidence to pull them off. After doing the Paul Kelly tribute shows last year I realised I could pull those hooks off. I know it's not to everyone's tastes, but fuck 'em – it's my solo album!
Has any girl ever said to you that she liked you because you wore shorts on stage ("She's Gotta Have it") and does being a rapper get you the ladies?
Not that I was aware of until Sista Native let me know? Ha ha nah that was a very cool adlib, we definitely had fun with the outro on that track. I take the piss for three verses (and honky choruses) so it's only fair that my sister gave it back at the end!
If Ned Kelly was a rapper, who would he be?
Hmm that's a tough one. I don't think any rappers have really been as gangsta as Ned. As far as gangsta rappers' personas, maybe Ice T circa "Cop Killer", Paris circa "The Devil Made Me Do It", Ice Cube circa "AmeriKKKa's Most Wanted".
How difficult is it to have a message in your music without being considered too preachy?
Preachy is in the ear of the beholder. To me preachy is being judgemental and patronising, stating the obvious like it's your idea. You're either naive or on some ego trip. I never rhymed to change minds, just to say what was on mine.
What's it like getting out into the aboriginal communities and doing workshops?
I always feel like it's a great privilege to be invited to remote aboriginal communities. The experience is a world away from the urban environment – it really is another country. I was recently in Martu country in the Pilbara region of WA – some of the most beautiful country I've seen in Australia. There are some aspects that are pretty confronting – I think most Australians would be surprised by the living conditions. But overall, it's amazingly rewarding to be immersed in a completely different culture, maybe try to learn a new language.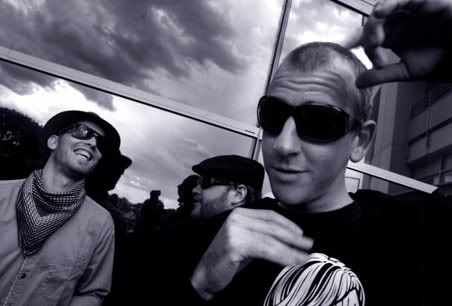 Now that Howard has gone, do you think things have changed, and has Rudds apology, made a difference?
There's still an overwhelmingly paternalistic approach to indigenous affairs in this country. Until this changes, and an independent body like ATSIC is set up so indigenous Australians can take some control of their own affairs and resources, this pattern will continue.
Who is kicking it in the Australian scene currently, and where do you think Australia sits on the world scale of hip-hop?
Mad love to the Big Village, well, village. Sydney hip hop is kicking goals right now. Mantra, Vida, 1/6 and Public Opinion killin Melburn, Stoop Fresh and Simmo T in WA, Optimen in Brissy. Urthboy and the Hoods are touring Europe in the next month, and I notice a lot more Aussie stuff getting reviewed on OS sites. We'll see in the next couple of years I guess.
Do you think commercial radio will ever get more involved in the Australian hip-hop scene other than trying to pimp some of the elements to make a buck?
Commercial radio has needs that non-commercial music can't satisfy. There's always songs that cross over – there already have been Aussie hip hop tunes that have crossed over. I don't really think Australian hip hop needs commercial radio to be successful.
Nikes or Thongs?
KT26s
Childhood Memories:
TV Show – G-Force
Hobby – Cycling
Food – Drunken Noodles
Fear – Of A Wack Planet
People – Elefant Traks, Sandro, Ass-babies, The Bears, BNBD massive
Defining moment – 1999 – Antigua, Guatemala
Where is the most beautiful place in Australia you have visited?
Man, that's hard! This country is endless. Jarvis Bay, Ningaloo Reef, Purnululu, Thursday Island, Lake Eyre, Uluru.
Where to from here?
We've got a national tour in August – (check out www.elefanttraks.com) – so we're focussed on a dope one hour show right now. Something for the heads to get their teeth into, and the toes and rumps won't be able to resist either
If you could invite 3 people to chat over coffee, who would they be & why?
Paul Roos: Good backmen make good coaches – thanks to 2Buck for pointing that out. Mostly because he makes me laugh – tell it like it is, Roosy.
Larry David: For the lulz.
RZA: I'm always wondering "What Would RZA Do?" This way I could ask him direct and get some Shaolin science dropped on my dome.
Coffee or Tea?
Coffee for sure. I never quite know if I really want tea – every time I'm asked. At least I know what coffee does.
And if you want to Hear more of Ozi Batla, you can:
Purchase Wild Colonial at www.jbhifionline.com.au
Check out his www.myspace.com/ozibatla
Check out the record label www.elefanttraks.com
Tags: ozi batla, wild colonial