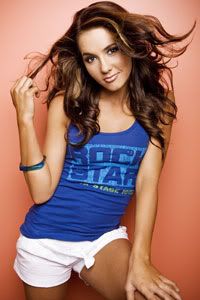 Two Flat Whites interviewed young musician Shea Fisher. Shea has a unique style fusing country with pop. A true country girl at heart, growing up claiming Australian Rodeo titles and spending days on the farm mustering cattle, Shea has the skills to handle herself in the music industry. We tip Shea to be the next big thing in Australian music. You may catch Shea in stores across Australia in the coming weeks in conjunction with her new album "Shea" being released on the 20th March 2009.

Where did you grow up & where do you hang your hat?
I was born in Portland, Victoria. I lived there the first four years of my life. The next three years I travelled on the road with my parents Eddie and Jo Fisher (who were both Australian Rodeo Champions) competing in rodeos. When I started school we based ourselves on the Sunshine Coast in sunny Queensland. When I was ten years old my family moved to America so my dad could compete on the PBR World circuit Bull riding. I lived their for two years. When we returned home to Australia we based ourselves back on the Sunshine Coast. I now spend most of my time on a tour bus so I base myself all around Australia.

In your own words, what do you do?
I am just an everyday girl with a really cool job! I am a singer and am so lucky to be able to have the chance to live my dream and create music that can influence people's lives. I write music that is relevant to people my own age I don't sing about issues that don't personally relate to me.
Where did you learn your craft?
I always loved being centre of attention as a little girl. I wanted to be the leading role in every school play and musical. After returning home from America where I had spent two years listening to as much country music as I could get my hands on I decided to start singing the National Anthem at rodeos. That was my first encounter with a big crowd and I loved it. I then entered a few talent quests and decided I wanted to be a country music singer. It has been a whirl wind ever since.
I loved the feeling I got before walking into the arena or out on stage, it was such an adrenaline rush. I taught myself the guitar and studied lots of other artist to see what they did on stage and how they entertained a crowd.
Who inspired you?
I have so many musical influences and people who inspired me it's hard to just name one. The first album I ever bought was Shania Twain when I was ten years old. She is such an incredible artist. I wanted to be just like Shania. I was her biggest fan.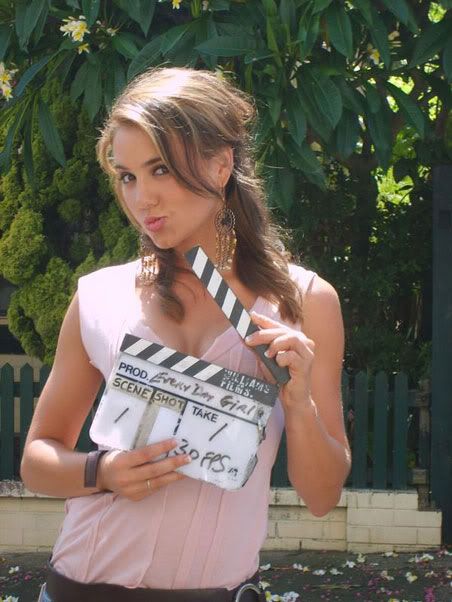 You're the daughter of Australian bull riding and bareback riding champion Eddie Fisher and barrel racing champion Joanne Fisher, what is it like having such famous parents?
To me they were just mum and dad I didn't see them as being famous like other people did. With Mum and Dad being so successful at what they did it gave my family the chance to travel the world. In America dad was a house hold name. I use to love walking around with him after the rodeos as he signed autographs; some of his fans even gave me presents. It was every young girls dream.

You lived the true cowgirl life, mustering & branding cattle every week, claiming rodeo titles including a number of Australian titles, what was that like growing up?
A lot of hard work……….. anyone who works on the land or with horses and cattle knows it is hard work but it is so rewarding. No two days run the same. Most weekends we were in a different town at a different rodeo so you don't get to do the regular sports and join team sports, although, I was never pushed to have to compete. I always just loved to do it.
Childhood Memories:
TV Show – The Brady bunch… I loved that show as a kid! I knew the opening song off by heart.

Hobby – I had so many hobbies as I child. I loved competing in rodeos- Barrel Racing, I loved all sports, and I loved being centre of attention- being the lead role in school plays.
Food – I was a big fan of the little party pie you could buy at the school tuck shop and the jelly cups. Once a week I was allowed tuck-shop and that is what I would order every week!
Fear – I use to be scared of the dark, I think most children are though but I use to hate not being able to see what was around the corning waiting to jump out at you.
People – My Nana was a big part of my childhood. I use to make her sit down and watch me perform every time I saw her. She was so nice she would sit there for hours as I held my hair brush, sang as loud as I could and did silly little dances. She was an amazing person.

Defining moment – Winning my first ever Australian title when I was 9 years old and having the opportunity to travel the world with my parents. It taught me so much.
You bring a fresh approach to country music. How would you say your music has evolved since your first album, "Everyday Girl'?
I was 14 years old when I was writing songs for my first album "Everyday girl" so I think in 5 years not only have I grown as an artist but also as a girl. I think this album shows where I have come over the past couple of years. I have learnt a lot about myself and what sort of music I like to create. This new album has captured exactly who I am.
Tell us about your new single "Don't Chase Me" & your current tour around country NSW?
This song is about a guy who insists on chasing a girl while he has other possible love interests on the back burner. The girl is simply stating; unless you want me, and only me, don't bother chasing me, because I'm not going to be strung along in some sort of game. I love this song. I think it is fun and energetic, young and youthful. It also is very girl empowering! I like the line, "Don't chase me unless you're willing to catch me!"  The past month I have been out on the road promoting this new single. We have visited radio stations all over Australia including NSW. I have been to Sydney, Newcastle, Muswellbrook, Albury, Orange, Yass…. This list continues. I have also been doing lots of live shows. Last weekend I performed in Yass and Orange. I love performing; it is a real buzz to see people in the audience singing your songs word for word.
Where is the most beautiful place in Australia you have visited?
It is hard to just pick one beautiful place in Australia; every part of Australia is amazing. But I would have to say the Sunshine Coast…my home town. There is nothing like home. When you are out on the road so much it is nice to come home for a weekend. I love the Sunshine Coast. We have land and animals but are only 10 minutes from the main beaches at Maroochydore.
From the hours of 9am to 5pm, what do you get up too?
It totally depends where I am. If I am on the road touring I never have the same day twice. If I am at home I get up in the morning, eat breakfast, go to the gym, feed my horses, write a song or two, have lunch, help out around the house, ride my horses, feed my horses (again), eat dinner go to bed etc. So basically when I am at home I live a normal life but when I am out on the road I have a very busy schedule! Sometimes I go to sleep on the tour bus in one state and wake up the next morning in a totally different state never knowing where I am.
Where can people see you perform?
I am doing a big national radio promo tour at the moment which means I am dropping into lots of radio stations doing interviews, so you can hear me on lots of radio stations. When the album is released March 20th I will be doing lots of in store signings. So you can check out my MySpace for any up and coming appearances I will be making.
For love or money?
I perform for love. I think if you don't love what you do there is no reason doing it. Money can't buy happiness but loving what you do can.
What future endeavours are in the pipeline?
My 2nd album is being released very soon March 20…very exciting and I have also just been signed to the USA Music Label Stroudavarious.
Where do you see yourself in 5 years?
I set my goals high. I would love to have had the opportunity to travel the world with my music over the next 5 years and been able to break the American market. I believe anything is possible it just depends how hard you are willing to work for it and how much you believe in yourself.  You never know what could happen in the next 5 years, Dream big I say!

If you could invite 3 people to chat over coffee, who would they be & why?

One-would be my best friend Sarah because I don't get to see her very often any more so any chance to chat over coffee would be great.
Two- Shania Twain so I could ask her advice and find out what her journey has been like over the past 15 years. She is amazing and made a mark for herself in all music Genres.
Three would be Jessica Alba as I would love to know her secret for keeping her bodying looking so good.
Coffee or Tea?
Tea- I'm full of enough energy without drinking coffee.
Tags: australian music, bull riding, cattle mustering, country music, Don't Chase Me, Eddie Fisher, Everyday Girl, Joanne Fisher, shea, Shea Fisher, Two Flat Whites