The Drones have become a bit of a household name in Australia these days and it's not too difficult to understand the appeal.  Combining great musicians, blistering live sets and a relentless tour schedule the band has well and truly established themselves as one our best musical exports.  I had the pleasure of seeing them at their last Brisbane show and must admit that despite being only a fairly recent convert I was blown away, which was why when the opportunity to interview guitarist Dan Luscombe via email on one of the bands short returns to Australia (they headed back to Europe two weeks later) I was pretty darn stoked.
Now to digress a moment here I have a confession to make – this was my first interview and I wasn't altogether sure what I was doing.  It seems relatively straightforward, and while in actuality it really is, for those who haven't done it before it can take way too much time.  Having dredged my mind clean for questions I decided to put it to a panel of advisors (my girlfriend's half-drunk house mates) who represented musicians and non-musicians alike, but most importantly were considerably bigger Drone's fans than myself.  In the end I think we came up with something resembling a good list, but there's always that fine line between stimulating and nonsense.  You be the judge.
Back to Dan though: Dan has been well respected on the Oz music scene for years but many people don't know much more about him besides the fact that he didn't join the Drones until late 2006, when he left his former outfit Alpha Male to replace Rui Pereira.  Besides Alpha Male, Dan's also played in the Black Eyed Susan's, Four Hours Sleep, the Paul Kelly Band and Stardust Five (w/ Paul Kelly, Dan Kelly, Bill MacDonald and his brother Peter Luscombe, 17 years his senior) and teamed up with Paul Kelly again to do the soundtrack to the Ray Lawrence film 'Jindabyne'.  Perhaps a good way to get to know Dan and the rest of the Drones though (besides this interview!) is through Dan's tour blog from the 2007 European tour @ http://dronesdiary.blogspot.com/.  It's a great read that makes you simultaneously smug and jealous from start to finish.  At the risk of over-prepositionalizing any more sentences though I'll let Dan do the talking.
So you've been touring all over the world recently, and you've done all this before.  How has this most recent European Trip compared to your others, most notably the 2007 one? What's the general ratio of work time to play time?
Well, thankfully we haven't been at the mercy of a fairly shoddy booking agent since that tour. And I'm being pretty generous in that description. The work to play ratio is a grey area. If sitting in the van comes under the "work" banner, and it probably should I guess, then it's about 80/20!
Favourite travel destination?
I'd say Paris. We've got a few buddies over there, and they provide a very homely atmosphere. Nice lookin' joint, too.

So Just what happened to Gorka and Van Morrison? (Read Dan's blog for details). What measures have you taken to ensure this tour doesn't end like the last one?
We've taken the necessary measures, put it that way. But one can never expect things to always go smoothly. "Be prepared" is not just a Boy Scout's motto. I'm not sure what happened to either Gorka or Van, but I sometimes lay awake at night, wondering.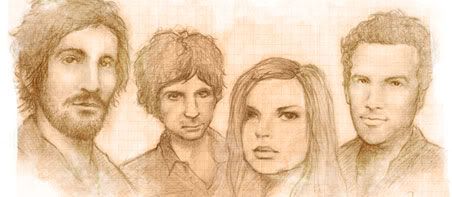 Did any of the gigs in this last tour compare to the Tromso gig in 2007?  Can you still remember those 18 Norwegian Christian names?
Ha! Not all 18. No chance in Hell (which is the name of a town just outside of Tromso, funnily enough). That show still is one of the more memorable ones, most definitely. There's something about that 24 hour daylight that make things very surreal.   Great folks, too.
True or false, Scandinavian women are the most beautiful in the world?
Tralse.
In Hong Kong the number plate 888 is rumored to be worth 2 million dollars, are you superstitious about anything?
I have a morbid fear of travelling in Hong Kong, and being run over by a car with 888 on the number plate.
What was the Australian scene like when you first started playing? Is it harder for a band to make it now than it was then? Why?
I can't really see a massive difference over the last (egads!) seventeen years. We still have lots of venues to play in, and thankfully, lots of people in the public who are still interested in what bands are doing. As far as making it goes, I guess I'm still struggling to come up with a definition of the term. For me, I think making it means being able to get your music heard by other people, and anything beyond that is a lottery.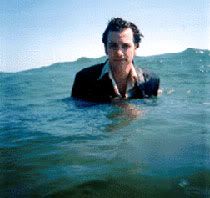 Stardust 5 stars – describe the difference in chemistry in comparison with the drones?
Very different. You've got the family thing with my brother on the drums, there.   And you've got the (with the exception of Dan Kelly, of course) elder statesman thing (Paul, Bill, Pete). I can't tell you how much I've learned from those guys, but it's a lot. In The Drones, I've learned how to disarm a Spanish tour manager with a pen and a roll of gaffer tape.
Have you heard of the Dan Luscombe show out of Sydney? What are you going to do about it, seriously?
Well, that was all part of an idea I had to franchise myself, but that guy kind of ran off with my name and company letterhead, and is going it alone now. Good luck to him. http://www.myspace.com/danlmusic
If all musicians are thieves and you're a musician, what was the last thing you stole?
Probably a lighter. I'm terrible with that.
Most obnoxious fan experience?
Of recent, the guy who came up to me in Townsville and said "Can I get your autograph for my mate? He's a huge fan of you guys. Personally, I don't see what all the fuss is about". But I guess technically he wasn't a fan, was he?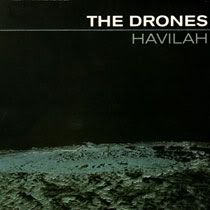 What's the most insulting thing anyone's ever said to you about your music? Most flattering thing?
A New York blogger once described the band as "the most awful music I've ever heard in my life". So that answers both, really.
Edward Hubble (not the Scientology guy!) said something along the lines of "if a man's character met his reputation on the street they would hardly recognise each other". What would your character have to say about your reputation?
"What are people saying about me??? And be honest."
Andrew Denton seems to have an ability to dredge up things from one's past that other interviewers don't find.  If he asked to interview you, what would you be afraid he'd find out?
That I'm quite dull and bad for ratings.
What's the worst hit to the balls you've ever taken?
Oh my. I can't honestly remember. I think the male brain is designed to forget about these things as soon as possible.
What's the future look like for the Drones?
It looks like the interior of a Ford Club Van, with a non-operative DVD player…
So a big big thanks to Dan for indulging my questions!  I encourage you all yet again to check out his 2007 blog, and be sure to check them out when they finally come back where they belong…
Interview by Will Alexander
Tags: australian music, Bands, Dan Luscombe, The Drones