Klaus from Two Flat Whites caught up with Toe-Fu & Ozi Batla from The Herd. Formed in 2000 when the collective behind the independent Sydney-based record label Elefant Traks decided to collaborate on a release rather than work as individual producers and MCs. The result was a wildly diverse 18-track self-titled album that featured the triple j hit 'Scallops'. With the success of that song The Herd toured extensively and developed into a cohesive unit – a big change given that, pre-Herd, they were a completely freestyle/improv group called Dase Team 5000.
In winter 2007 The Herd focused on their most ambitious album to date – returning to the Central Coast A-frame house where they'd written much of their previous albums – for an extended period of writing. The resulting album, Summerland, was completed in early 2008, and features the first single 'The King is Dead'.
In between all this activity, members of The Herd released highly acclaimed solo albums: Unkle Ho – Roads to Roma (2004) and Circus Maximus (2007); Urthboy – Distant Sense of Random Menace (2004) and The Signal (2007); and Astronomy Class (featuring Ozi Batla) – Exit Strategy (2006).
The Herd have a reputation as one of the country's best live acts. An unconventional set-up, they perform with two MCs, two singers, an acoustic and an electric guitar, bass, piano accordion, clarinet, laptops and MPC.

4 Albums deep, how have things changed since your first recording?
Well we've all moved into a different phase of our lives is probably the main difference. We were in our early 20s when we put out the first album, and still finding our way in life and musically. We're much more settled as a band on Summerland, and the fact that there is a permanent line-up now is probably indicative of where we've moved. There are heaps of collaborators of the first album and it really was a collective. That has the benefit of diversity but can lack sonic cohesion. I think we've matured as song-writers and managed to keep a focus on diverse sounds. Obviously there's essential Herdos like Rok Poshtya, Jane Tyrrell and Sulo who weren't so prominent at the start, and some beloved Herdos who are no longer there, most notably Bezerkatron, Snapsuit and Alejandro.
What did you make of Radio Head having their album for download for whatever price the consumer decided, and is something like this feasible for smaller bands?
It's a great marketing idea, and it's also a fascinating experiment in digital distribution. If it's accurate, the leaked data that was reported on adds fuel to both sides of the argument. The record companies argue that it failed because only 40% of people paid for it. On the other hand, almost all of that 40% became direct profit for the band, after the minimal costs involved with digital distro and the minimal advertising they had to do. Of course, this could only work for a mega-band like Radiohead because of the massive number of units they shift. I reckon it gave a realistic indication of a price that makes it more attractive for people to buy albums, somewhere around $6-10 an album. It may make a difference to discerning listeners also that most of the money they paid went to the artist. The majors must hate Radiohead right now!
Why do you think it is that Australians do the independent thing so well, and do you think major labels ever take risks on something that might not have mass appeal?
Australia, despite the best efforts of some local governments, still has a thriving live music scene, and has for many years. Good live venues and festivals are supportive of local indy music on the whole. Labels like Jarrah and Obese have succeeded in carving a niche out somewhere between the two, which is great. Most of the good groups that do cross over and go big have come up through the live scene and probably on an indy label at some stage – which might also be the answer to your second question. I think majors only allow for risk-taking where there's proven popularity already. The label may take a risk initially by signing an edgy new band, but if they then put the creative clamps on them and weigh them down with massive recoupable costs, the band might lose the edge that made them appealing in the first place. Snap.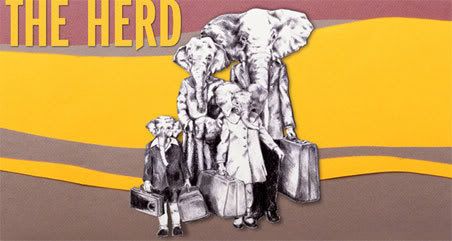 Now that the king is dead, do you think things have changed much under K-Rudd?
I suppose that depends on your politics, really, and how outraged or nonplussed you were by the Howard government. To put it in perspective: Howard in his first year slashe funding to higher education, introduced work for the dole, the Wik ten point plan to turn back Native Title laws, and seven cabinet ministers resigned. So far, Rudd has made an apology to the stolen generations, raitfied Kyoto, removed unfair Work Choices laws, and committed to pulling troops out of Iraq. So far, no minister has had to resign. If anything, things haven't changed enough. Rudd's been drawn into a number of complete distractions, like Bill Henson, or petrol subsidies. He has a talented group of people around him, and it's probably still too early to say whether they'll acheive their lofty goals. Hope so, though.
And is it possible for us to have a female prime minister? (eg. Julia G)
Yeah, we already did, remember? Julia Gillard was acting PM for a bit! Certainly it's possible, look at South America – two female presidents in countries I would consider far more patriarchal than here.
Who are you feeling right now musically? O/S Artists:
Been feeling Chester P's album, From the Ashes, bit old now but its dope, from legendary London duo Task Force. Grimey and musically hilarious. I'm on an Ethiopian jazz tip at the moment, so been listening to the Heliocentrics and Mulatu Ashtake live set. Plenty of Jorge Ben, a Tabua de Esmeralda, Samba Esquema Novo, Manu Chao's new one La Radiolina seems lighter than his previous stuff but I kep putting it on.
www.theherd.com.au
www.myspace.com/runningwiththeherd
www.elefanttraks.com
Tags: 4 Albums deep, Alejandro, Astronomy Class (featuring Ozi Batla) – Exit Strategy, Bezerkatron, Circus Maximus, Dase Team 5000, Elefant Traks, independent Sydney-based record label, Jane Tyrrell, K-Rudd, Radio Head, Rok Poshtya, Scallops, Snapsuit, Sulo, Summerland, The Herd, The Signal, Two Flat Whites, Unkle Ho – Roads to Roma, Urthboy – Distant Sense of Random Menace