Hailing from Sydney, post-indie/soul four-piece, 'The Paper Scissors' first hit the national limelight in 2006 when their track 'We Don't Walk' from their 'The Paper Scissors EP' which was picked up by FBI, JJJ and Rage. Their burgeoning reputation for frenetic, crowd-friendly, loud and tumultuous live shows, saw them hit stages nationwide with the release in 2007, of their debut LP 'Less Talk, More Paper Scissors' which assured their rapidly ascending position, both at home and abroad. If you haven't heard The Paper Scissors, do yourself a favour & buy a copy of there album. This is one of Two Flat Whites favourite bands!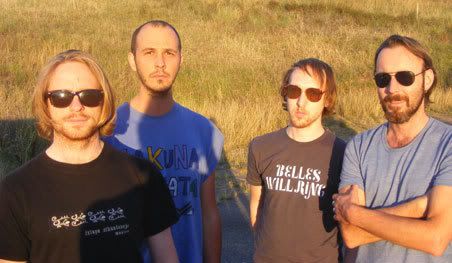 If you sign an autograph what do you write? And where do you call home?
I'm always confused as what to write on an autograph. I try to avoid 'keep rocking' or 'keep on keeping on', so usually just stick with 'thanks heaps' or if I have enough time to have a chat I will personalize it a bit more.
In your own words, what do you do?
I sing and play guitar in the paper scissors, I am the main songwriter and co run Our First Label, our label, as well as doing most of the web based stuff and the graphic design. I work in a café a few days a week to pay my rent.
Childhood Memories:
TV Show – Mr Squiggle. Loved that show, it was pretty weird and psychedelic, but at the same time creative.
Hobby – Was always drawing/painting, playing drums, also played cricket when I was a wee whipper snapper and basketball when I was a slightly larger child.
Food – Grew up with pretty wholesome hippy food. Was always good though, vegetarian food can go so wrong, but my mum is pretty good at it. Food and cooking have always been a pretty important part of my life, some of the best conversations I've had have been with my mum when cooking dinner together.
Fear – I always had this irrational fear that I'd get home from school and my family would be gone. Just packed up and left. I'm not sure what that's all about.
People – Lots of musicians around all the time. I remember waking up and wanting to go back to bed because everyone would be hanging out and playing music and stuff.
Defining moment – When my parents won a lawnmower in a raffle, they then sold the lawnmower and bought me my first proper drum kit.
Schooling memories, chore or cherished?
Primary pretty cherished, went to a community school with only 50 kids, lots of music and drama and art and no uniform or homework. High school was a chore for the first few years, lots of big scary kids who I didn't like and they reciprocated the feeling. Then moved to Byron Bay in year 9 and it all went much better then, back to art and drama and photos and music.
From the hours of 9am to 5pm, what do you get up too?
Either working in café or working on The Paper Scissors' stuff. Lately working on our tour with Bluejuice.
Where can people see you perform?
With Bluejuice, somewhere near you.
For love or money?
HA HAHAHAH!!!! Well we're definitely not making any money, it is for the love.
It's all worth it when things go right and the audience gives the love back!
The Paper Scissors with Bluejuice
What future endeavors are in the pipeline?
New songs, new remixes & new clips. I'm going to record an EP as Pork Pies, my solo incarnation.
Where do you see yourself in 5 years?
Making music, in love, making art, writing, not working a day job, maybe living in another country for a while & learning another language.
If you could invite 3 people to chat over coffee, who would they be & why?
Darondo (he's this 70's soul star, he was a pimp, then went on to have a music career and
a TV show, he is doing come back shows in the US at the moment, he is hilarious, look him up on YouTube), ahhhh….
Bowie, because I would like to meet him and suck his brain, and maybe Julian Barrett from the mighty boosh, because I reckon he'd be cool and could talk about music for hours. But I would give you a different answer tomorrow. I think my friends would give me just as good a conversation though.
Coffee or Tea?
Tea. I love coffee, but if I had to choose one forever, it'd be tea. There is so much comfort in tea and so much more time. Coffee is more like a really pop song, where tea is like a whole great album.
Tags: Australian Music, Bands, bluejuice, fbi, jjj, Less talk more paper scissors, paper scissors, rage, the paper scissors, tour, triple j, Two Flat Whites