Never before has Australia given birth to such an unashamedly daring, pansexual foursome as The Minority. Theatrical, multi-layered tunes, controversial lyrics and a sexy, glam rock image. The Minority are sizzling with the most intense blend of all things hot! Two Flat Whites recently had the pleasure in talking with Ross Larkin of The Minority.
A closer listen to The Minoritys eccentric lyrics reveal splashes of witty humour, sordid truths & some power packed angst – wrapping sexual politics, twisted relationships and numerous obsessive behaviours in character, comedy and charm. While comparisons to Scissor Sisters, The Darkness & The Killers are not uncommon – these guys & girls are a breed of their own; confident in their direction – and a stage presence rarely seen. The result is simply dynamic! Don't forget to check out their debut single "SABOTAGE".
If you sign an autograph what do you write? And where do you call home?
I usually just write my name because I find writing autographs embarrassing so I keep it as brief as possible. Home is Melbourne.
In your own words, what do you do?
In terms of The Minority, I write, sing, perform, record, collaborate, entertain, work extremely hard, network if I can cope with it and have a great time.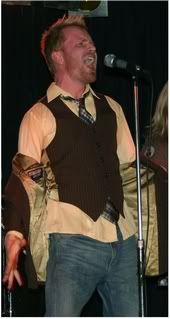 Childhood Memories:
TV Show – Inspector Gadget.
Hobby – Collecting records.
Food – Burgers and chips (not anymore though).
Fear – Self discovery.
People – Parents, brother, friends, bullies, teachers.
Defining moment – There were many.
Schooling memories, chore or cherished?
Neither. Worst years of my life but not for the chore factor.
From the hours of 9am to 5pm, what do you get up too?
I wear many caps. I'm a film maker as well as a muso so I juggle between the 2 including writing scripts and music, not to mention all the work that comes with not having a manager or a record company.
Where can people see you perform?
Noise Bar, Brunswick Hotel, Commercial Hotel etc etc. Can be anywhere really. … Or on You Tube all the time.
For love or money?
For the love (and the frustration) of trying to make money. Lack of money might kill it eventually.
What future endeavors are in the pipeline?
Recording an album, making another film clip (our current film clip is on you tube and soon to be on TV), more gigs etc etc.
Where do you see yourself in 5 years?
With a lot of achievements and results under my belt. Successes and developments that I'm very proud of and that can be shared widely.
If you could invite 3 people to chat over coffee, who would they be & why?
1) Annie Lennox because she's been my inspiration and my idol since age 11.
2) Madonna to find out if she's a bitch or if she's actually interesting.
3) Michel Gondry, to brainstorm great film concepts and ideas!
Coffee or Tea?
Neither thank you.