Two Flat Whites kicks off 2009 chatting with comedian, writer & broadcaster Wil Anderson. Anderson is a loose cannon, fast, funny and full of razor-sharp observations. He is down to earth and a must see live!
Wil Anderson is renowned for his stand-up comedy. Some of you might know him as "the bloke who sat in the middle" on the ABC's award-winning, The Glass House for five years or "the one who didn't know anything about maths" on the much-loved Triple J Breakfast show or even "that bloke who hosts Spicks And Specks". (That last one is actually Adam Hills, but he does get mistaken for Adam a lot). He is also author of the book, Survival Of The Dumbest which has the proud honour of "being over 250 pages long without photos". Even though he has spent the majority of his adult life working at the ABC he has watched heaps of ads, and even appeared in a couple!
Where did you grow up & where do you hang your hat?
I grew up on a road called Anderson's Rd, which was named after my Grandfather who built the road. My Dad still lives there. When people ask if my folks are happy with my career choice, I just reply: "Dude they are happy I am not married to my own sister! (I mean we dated but it didn't work out!)"
Now the road tends to be my home. I spend a lot of time in hotel rooms taking everything out of the mini-bar and pretending I am a giant. But my house is in Sydney. My heart belongs wherever there is a crowd and a spotlight.
In your own words, what do you do?
Tell Dick Jokes For Cash.
What or who are some of your inspirations?
Billy Connolly, Bill Hicks, Doug Stanhope, Eddie Izzard, Chris Rock, Sarah Silverman, Ross Noble, Dave Hughes, Paul Merton, Hunter S. Thompson and that is just some off the top of my head.
I'm constantly inspired by people who are doing what they love to do, whatever industry, but mostly I'm inspired by my hideous mortgage and lack of other skills.
If you had the power to do anything at all, what would it be & why?
What I do, but better.
Childhood Memories:

TV Show – The two shows that changed my life were The Big Gig and The Money or the Gun.

Hobby – I grew up on a farm so your parents would say goodbye to you in the morning, and expect you back at dark. Your hobby was your imagination.
Food – Toast. The greatest of all foods, so simple, but so delicious. I still love it. When I was at uni I used to make cheese on toast by laying my toaster on the side.
Fear – Being ordinary.

Sport – I played football, basketball and cricket. I was pretty good at football, not bad at basketball, and rubbish at cricket. I would have loved to be good at cricket.
Defining moment – Seeing Billy Connolly with my Mum when I was 17.
Seeing 3000 people in a room hanging on his every word as he swore and joked and all I could think is: "Now this is a job!"


Schooling memories, chore or cherished?
Bit of both. Great family, good friends, but I knew I wanted more, and kept running into teachers who would tell me I couldn't have it…

You have been on numerous TV shows, done countless gigs but tell us, was the highlight of your career appearing on Hey Hey its Saturday?
Hey if it's good enough for Bill Hicks and Peter Cook then it is ok for me. Actually my career highlight was getting to the program Rage.
Can you tell us about a young Australian comedian to look out for?
Josh Thomas is great and Felicity Ward I find really funny.
As a comedian, is there a pressure to always be funny, even when you just want to go out and relax?
Nah, not really I think it's like a chef. You might want to cook at home, but after coming home from work you normally just want someone else to cook for you or grab some takeaway.
The Gruen Transfer, will it be coming back next year, and will you ever look at commercials in the same way?
It is back in March. Sadly these days I end up fast-forwarding through TV shows I have taped just to look at the ads.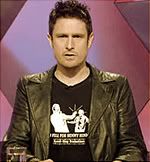 Do you miss John Howard?
No, I like to move on. No more John Howard, no more Shannon Noll, no more Amanda Vanstone.
If you could invite 3 people to chat over dinner, who would they be & why?
Dave Grohl, PJ Harvey, Billy Connolly. That would just be an awesome party. Imagine the laughs with Dave and Billy, the tunes with Dave and PJ. And I think PJ is really hot. So that works too. All bases covered.
Coffee, Tea or Bonox?
Coffee. And way too much of it for my own good. But I like tea too. And soup. I enjoy a warm beverage.
Tags: comedian, Comedy, interview, Two Flat Whites, wil anderson