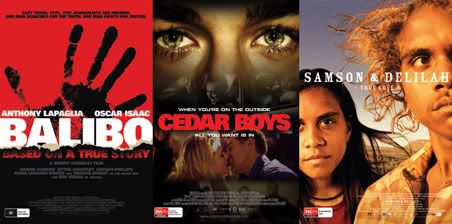 At a star studded event at Sydney's Pavilion restaurant, internationally acclaimed actor David Wenham, Director Jeremy Sims and Packed to the Rafters star Jessica McNamee joined this year's awards host Eddie Perfect to announce the nominees for the 2009 Inside Film Awards.
Samson & Delilah led the pack with nominations in eight categories, closely followed by Balibo with nominations in seven categories and Mary & Max with nominations in four categories. These nominations came in a year of huge competition with 191,433 ratings being recorded, more than three times the number recorded last year.
It was a great year for the indigenous film community with audiences embracing both indigenous culture and stars. Along with Samson & Delilah's success, the short film category was also dominated by indigenous talent. The nominees in this category are the Deborah Mailman directed Ralph, Jacob produced by Darren Dale and Aunty Maggie and the Womba Wakgun directed by Leah Purcell.
Back in Sydney to begin a second decade in 2009 the Inside Film Awards celebrate and champion Australian film and creative talent as decided by the general public. This year's Inside Film Awards are on Wednesday 18th November at Sydney's Luna Park.
For tickets and to check out all the nominees, you should click here.
Two Flat Whites have had the pleasure in interviewing some wonderful Australian film identities which include Allanah Zitserman, Warwick Thornton, Adam Elliot, Clare Bowen, Dan Castle and Tony Mason. Simply click on the 'previous interviews' tab on Two Flat Whites.