Ash Grunwald is a soulful bluesman in the most pure sense. Raised in outer Melbourne, he first picked up a guitar at the sprightly age of ten. Grunwald grew up listening to classic bluesmen like Muddy Waters, Robert Johnson and then later BB King, James Brown and Jimi Hendrix. This melting pot of blues and soul provided inspiration for what would become his signature eclectic style.
Mucking around busking in his teens, Grunwald formed group The Blue Grunwalds and released the album Groove Cafe. Once he'd found his feet a little more firmly in the music scene he started the trio Groove Catalysts in 2001. While both these groups brought success Grunwald was drawn to the solo acoustic side of things.
In 2002 Grunwald released his first solo album Introducing Ash Grunwald and took out that year's Melbourne Blues Performer of the Year. This prompted the follow up record I Don't Believe (2004). Then came Live at the Corner (2005) and this met with wide acclaim, taking out Album of the Year at the Australian Blues Awards.
Grunwald continues to tour widely, showcasing his unique one man band style of the blues. His latest album Fish Out Of Water is a thrilling hybrid of styles and sounds.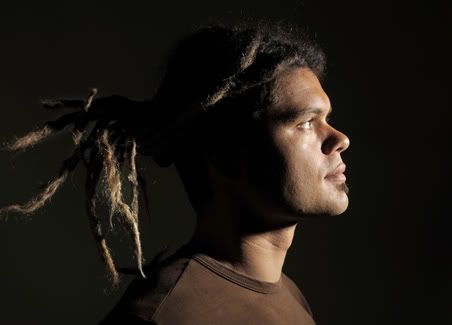 Where did you grow up & where do you hang your hat?
I grew up in the burbs of Melbourne and half in the country when I was in my teens.  At the the moment i'm living on the road with my girl and baby.  We plan to move up around Byron Bay at some stage but its pretty fun living on the road.
In your own words, what do you do?
I'm a one man band that plays groove based modern blues music.   My sounds and themes have a pretty Australian feel.
Where did you learn your craft?
In the inner suburbs of Melbourne.  I used to go to a lot of gigs around town on my nights off and learned a lot about blues from some of the great players there.  I found my own sound out on the road by just gigging as much as I could in as many dfferent places as possible.
Who and what inspires you?
My lyrics are very reflective of my life experiences and the basic human condition so I would have to say, life.  How to live it, whats the best way forward, whats the point of it. These are the kind of questions that inform my music.
Childhood Memories:
TV Show –  The Goodies
Hobby – Surfing
Food – Vego curriesm Morrocanm Thai Indian
Fear – Day job
People – I believe that our love of other people is one of the innate things that allows us to overcome adversity without big teeth, strong muscles or being nimble.
Defining moment – The birth of my daughter.
Schooling memories, chore or cherished?
Chore,  I had a pretty good childhood, but being an adult is heaps more fun.  I play more now than I ever did as a kid.
Tell us about your new album "Fish out of Water"?
I had a great time collaborating with Countbounce who co-wrote many of the songs, created all of the beats and produced the album.  Its got a pretty fresh modern sound, I reckon.  Its my favourite by far.
Who does Ash Grunwald listen too?
I almost never lsten to blues any more, funny enough.  At the moment its mainly groove based stuff.  Fat Freddy Drops latest has been getting a spin while I've been touring England.
Where is the most beautiful place in Australia you have visited?
In truth it's hard to name one.  I love the Australian coast so much and have had good times almost everywhere,  I think around Margaret River and Byron Bay I get the best feeling.
From the hours of 9am to 5pm, what do you get up too?
Usually travel.  If its a day off, and I'm lucky, a surf,  But almost everyday I'll be hanging out with my girlfriend and our 9 month year old little miracle.
Where can people see you perform?
Australia, England and Canada mainly, but I've played in many other places.
For love or money?
If I did it only for the love then I'd have to do a day job for money, and that wouldn't be nearly as good as doing what I love for the money.
What future endeavors are in the pipeline?
More collaborations and a few more holidays hopefully.
Where do you see yourself in 5 years?
I really don't know.  Hopefully doing exactly the same thing but at a higher level in the places that I'm developing like England and Canada.  I'd like to somehow create a couple of clones of myself so one could just gig his arse off, one could be living in Byron being the perfect family, and one could be surfing remote point breaks for months on end.
If you could invite 3 people to chat over coffee, who would they be & why?
Tom Waits would be the most interesting dude I could think of to talk to – he's an amazingly inventive songwriter and character.  In the same boat I'd put Hendrix and Biggie Smalls.
Coffee or Tea?
I'm definitely a coffee dude, basically because I'm always tired.
Tags: ash grunwald, australian music, Fish Out Of Water, Groove Cafe, Groove Catalysts, I Don't Believe, Introducing Ash Grunwald, Live at the Corner, The Blue Grunwalds