Marcia Hines has been a music industry veteran since she first ripped onto the radar in OZ when she performed with a hippy troop of naked dancers for HAIR's Australia tour when she was just 16. She has since charted her own path with a string of hits in those early days, appearing controversially as the first black actress to perform the role of Mary Magdalene in the Australian version of Jesus Christ Superstar.
Her image and career were completely reinvented when she became a panellist for Australian Idol and her name was once again being discussed around Australian dinner tables and water coolers with affection.  Since Idol has been put on hold, the chanteuse had enjoyed the break from filming to record a reimagination of Carole King's hugely successful 1970 album Tapestry. Two Flat Whites caught up with Marcia while she is on-road touring with Simply Red to discuss the new creative endeavour, Marcia Sings Tapestry.
Estelle Pigott: You're in Melbourne with Simply Red, how's that going?
Marcia Hines: Pretty cool, we did two nights in Melbourne then we're going up to the wineries. Performing with Simply Red has been cool.
E P: There's been a lot of comment from the press about the fact that your new album, Marica Sings Tapestry is coming out to coincide with you 40th anniversary as a performer, which is a tremendous achievement, particularly for a female artist, don't you think?
M H: Yeah, maybe. But I think the chicks that I know, who are serious about performing, they work pretty hard to keep things fresh and to reinvent. It doesn't mean they're always number one, you know,  you gotta  roll with the peaks and troughs buts it's all good.
E P: Looking over 4 decades of work Hair, Countdown, Superstar, the Mardi Gras, Australian Idol… I felt as though I should have a drink for you!
M H: Well thank you, that's sweet of you. But I'm not counting, you know, maybe if I was I would be tired. I'm exhausted but I'm not tired! [laughs]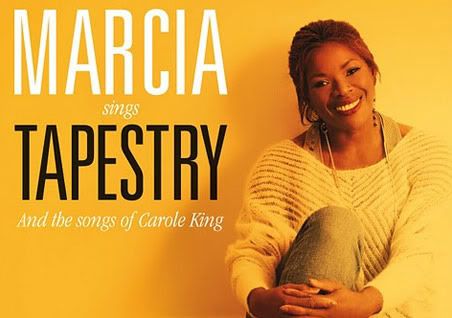 E P: Australian Idol is "resting" but you're certainly not, do you think you would return to TV sometime in the future?
M H: I love television, especially live television because you film on a real high, it's just a great experience. I was actually just saying to a friend today, Australian Idol was just the best training ground you could ever have for television and I really enjoyed doing it.
If I were asked to do it again, I would consider it but the greatest thing about not doing it this year was it allowed me to record Tapestry. When you're in a show, whether it's a stage show or a TV show or a tour, it's a vortex. It sucks you in and that's your life, and so, right now, I'm so pleased that I had the time to record Tapestry and get it out at such a great time while I'm on tour with these guys from Simply Red.
E P: Idol really opened up a whole new generation of fans to you.
M H: Yeah, it did and that was fantastic. I see kids in the street now and they say, "Hey Marcia!" and I always say hi, and they say "Do me a favour. Can I have a cuddle?" and I always say sure because I think it's the most beautiful thing.
E P: The public has really adopted you and loves you, you were on their TVs every week and they opened their hearts to you.
M H: Yeah, and I loved the gig, I must tell you. I really really loved it, it taught me a lot and it actually rekindled my passion for performing because you would see these kids up there on stage and all they want to do is what I'm doing. All they want to do is sing, and you can't sit on a desk on a panel and tell somebody how to do something and not do it yourself either.
E P: Do you think Tapestry will reach that new audience?
M H: I hope so, I really do. Because the songs are melodic songs and they say something.
E P: I grew up with Carole King's album; my mum would play it all the time, when did you first hear the album?
M H: Oh well, when your mum did. [laughs]
E P: 1970, right?
M H: Yes, 1970, and I really just adored it. It spoke to me, it spoke to a lot of people but I don't think it just spoke to women, though, it reached men too. On this tour we're doing Slapwater Jack and a lot of guys love that track. That's why I always say, "Is that the 'dude track',  is it?"
E P: Have you ever met Carole King?
M H: No, but we're hoping to send her a copy of the album.
E P: Her personality is so strongly felt through these songs, they really are a vehicle for the performer to convey a part of herself, and your style is always very personal. Did you feel like there was enough room for you both in the Tapestry tracks, enough for you to put your own stamp on the music?
M H: Yeah, it's scary to sing. Her album reached deep with people, you mentioned your mother, so there's memories attached to it there.  A lot of people say to me, "That album meant so much to me" and that's when it gets scary, when you've got to work with something that was so incredibly popular.
E P: How faithful were you to the original recording and how much has it been a reinterpretation of your own?
M H: Ok, well, first of all it was recorded in 1970 so the technology since then really has changed, so we brought it into the 21st Century.  But also, you know, I really believe if it ain't broke don't fix it so I sang the songs with the same respect as though they were written for me or I wrote them myself.  But if you put my voice to anything and somebody else's voice to the same thing, no two people are going to interpret that song the same way. The great thing about being a singer is that you actually are a storyteller.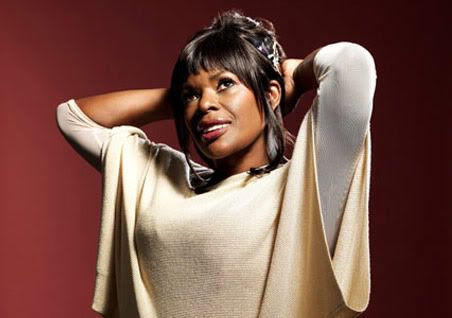 E P: So you've woven your own stories through the music?
M H: Well that's very good! Yeah! [laughs]
E P: Oh you like that one, you can have it. [laughs] Well, you must have some stories after 40 years in the game!
M H: Yeah, well sure, I've got stories. It's all good.
E P: So what's coming up after the Simply Red Tour?
M H: Well we have two concerts coming up at the end of the year. Deni, my daughter, is going to be performing with me in one, which will be cool. And the it will be another year and it all rolls on again.
E P: And before we let you go, Marcia, our audience are music fans and they're also food buffs. Have you got any tips for them?  Do you have a favourite restaurant down there in Melbourne?
M H: I like Flowerdrum www.flower-drum.com , a Chinese restaurant in the city.
You can purchase Marcias Hines album "Marcia sings Tapestry" via www.marciahinesstore.com.au
www.marciahines.com.au